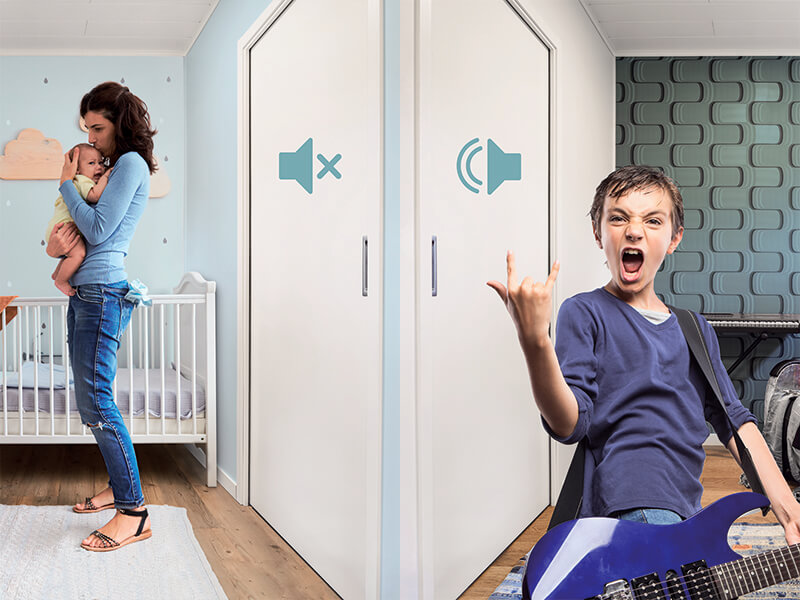 Acoustic sliding door
From R&D ECLISSE comes the system for sliding doors with acoustic performance. Designed specifically to reduce noise pollution between adjoining rooms, ECLISSE Acoustic has all the advantages of a sliding door associated with acoustic comfort. Each element of the system is designed to ensure the soundproofing of the door, thanks to the activation of a series of specific components that seal the entire perimeter when the door closes, soundproofing the entire door hole with an acoustic abatement of 38 dB.
CHARACTERISTICS
In an ECLISSE acoustic sliding door each component is functional to the sound insulation. It is a real system composed of an acoustic door panel with special sound insulating stratigraphy and 40 mm thickness, acoustic jambs ready for assembly, seals and bumps sealing the vertical ends of the door hole when it is closed, two pairs of magnets that contribute to the optimal closing of the door while maintaining the perfect adhesion between the door and the striker jamb and the upper and lower fenders, which are activated at the closing of the door by sealing the upper and lower draughts of the door hole. The available finishes for the ECLISSE acoustic system are the raw tanganika walnut and the matt lacquer in RAL colours. The system is compatible with the ECLISSE Unico, ECLISSE Luce and ECLISSE Ewoluto® Scorrevole, also already installed.
GALLERY