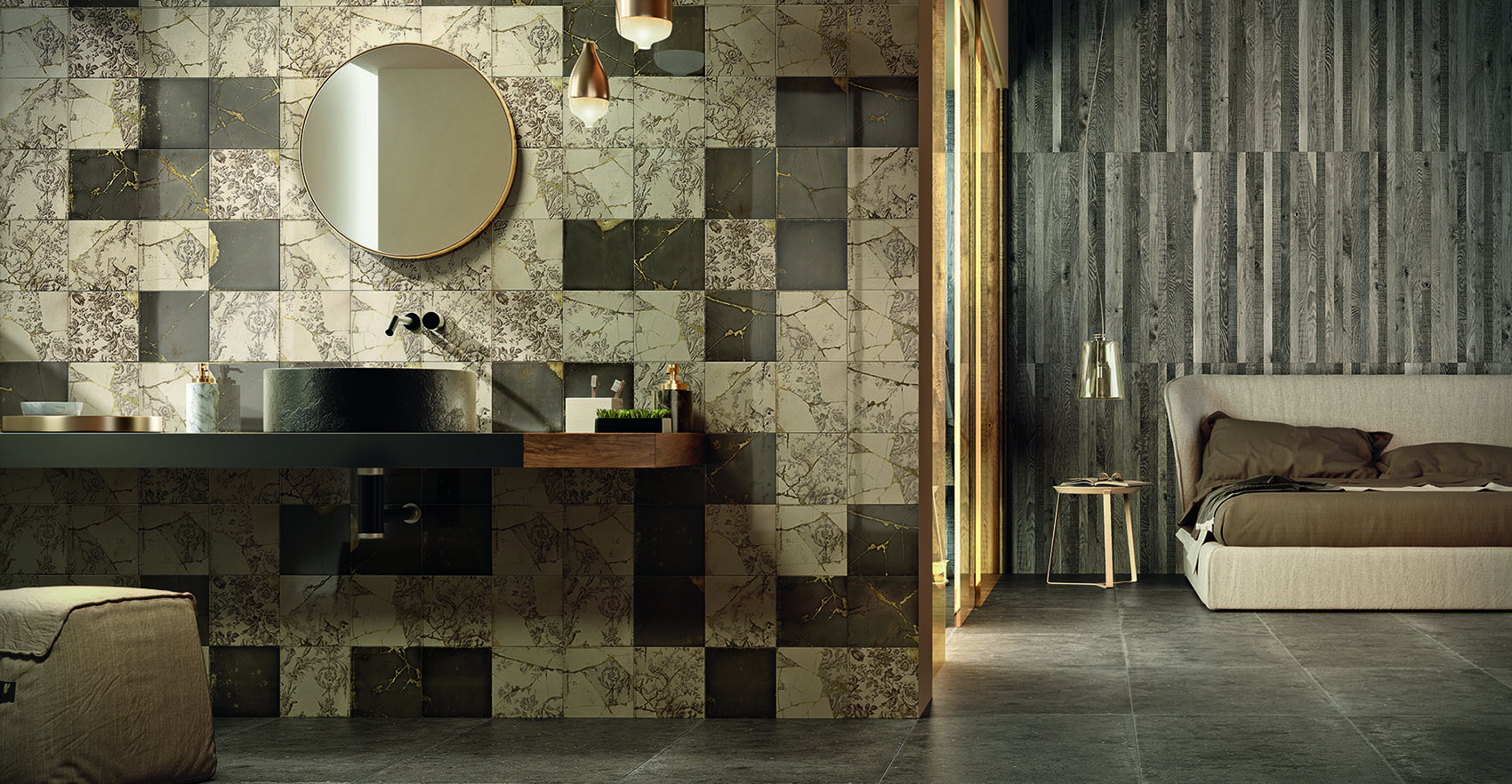 Decors
Creativity as a shared and essential element.
Iris Ceramica products feature many design elements that make wall coverings, floorings, and accessories easy to combine, offering plenty of opportunities to personalize spaces and make them more eclectic and engaging. Decorations, which can be applied to the different types of coverings, are an essential element of space personalization.
Iris Ceramica offers a vast range of decors, colors, and finishes: ceramic and semigres coverings boast fascinating and varied palettes that allow to create versatile, temperate, and original solutions. The different ceramic surfaces, offered with minimal variations or with stone effects, are conceived to support one of today's main design trends: the combination of vintage and contemporary style. These effects join the many decoration options inspired by sophisticated artisanry, for example light floral motifs or graphic elements. Additionally, the choice of modules and formats allows absolute freedom in the creation of personalized wall covering compositions.
The result will be warm and cozy spaces, in which mix and match solutions recreate the inviting and comforting feeling of homes of times gone by, evocative and never excessive.
The recently launched collections Blaze, BeLike and FreeHand are just some of the options.
The semigres BeLike wall coverings, which come in a wide range of pastel colors, available with a matte or shiny finish, stand out for the great variety of decors in a 20x20 cm format that can easily be mixed and matched to create walls that evoke faraway and seductive settings inspired by the East".
The Blaze collection boasts a range of neutral colors that hint at precious metals, providing rooms with a glamorous aura, thanks to light colors and a natural sobriety.
Iris Ceramica has dedicated its FreeHand collection to a vintage style revisited in a contemporary key, in which shapes are highlighted by light strokes, hints of natural motifs and delicate and non-intrusive color combinations.
GALLERY