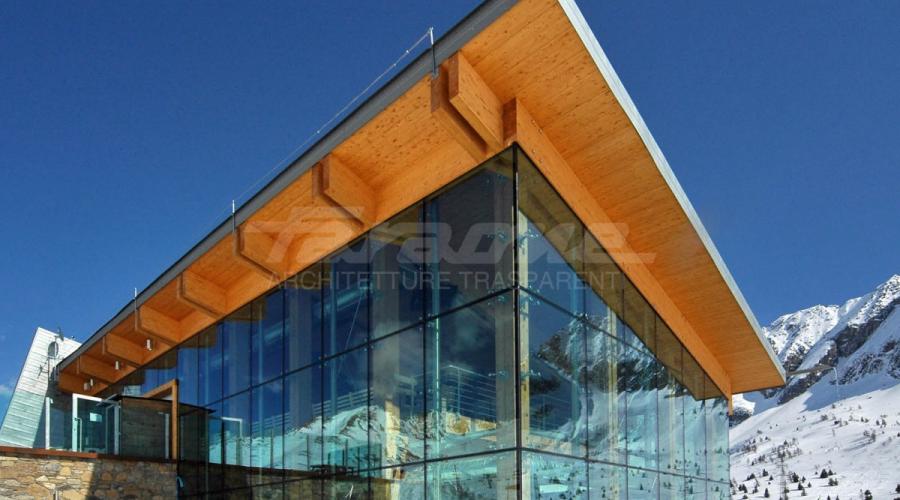 Glass curtain walls
The curtain walls capture the light and interpret it, making it the protagonist in every type of environment. The company's core business since the very beginning has been the production of glass curtain walls, a strategic sector that Faraone subsequently expanded with the production of "double skin" curtain walls. With the awareness of introducing innovation, Faraone has focused on the technology of punctual fixing, emphasizing its transparency and flexibility.
CHARACTERISTICS
Klima is the new glass facade with punctual fixing and double glazing up to 3 sheets, designed to respond to the "CasaClima" instructions, guaranteeing very high performance in terms of energy saving and noise reduction. The Klima project responds to the current economic situation by offering high performance at low costs.
Some of the values with standard products:
- Klima with 3 glasses, thermal insulation class Ucw 0,8 w/m2 K (with special glasses also up to Ucw 0,7 W/m2 K)
- Klima with 2 glasses, thermal insulation class Ucw 1,1 w/m2 K (insulating glass made up of hot duct/selective outer sheet and low emission inner sheet and argon gas)
Air System and Quadrifoglio are made up of tensile structures made of stainless steel and glass + cruises; they have stainless steel structures, vertical structures with "Glasfin" glass sheets, rotules and cruises.
Vetrissimo T and Vetrissimo N are a perfect combination of design and technology for a sophisticated glass facade. The horizontal overlap of the glass provides both good ventilation and weather protection. This system is distinguished by its ease of installation and is particularly suitable for cladding buildings.
GALLERY