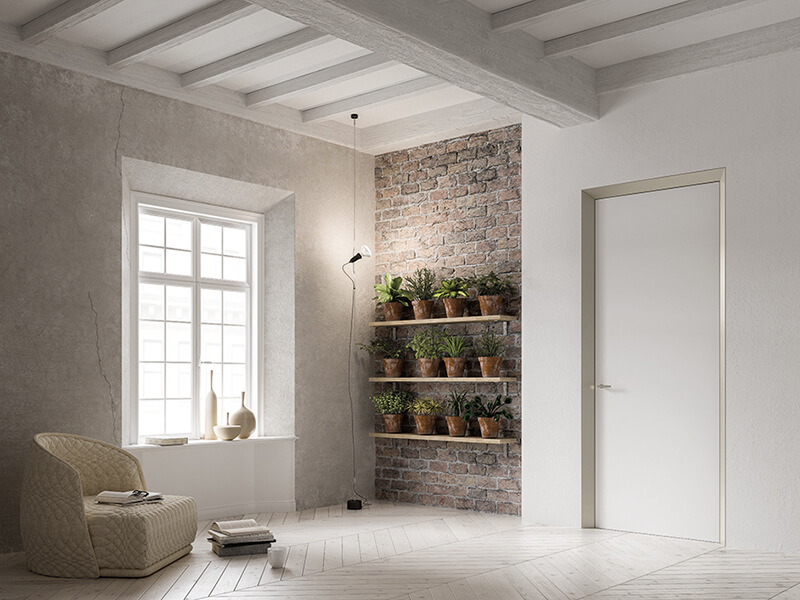 Frames with 40° for hinged doors
ECLISSE 40 Collection takes inspiration from the observation of the past. In the walls of the old buildings the perimeter of the openings is inclined, widening towards the interior of the compartment to convey through the window as much light as possible. It's the trumpet technique. After the innovation of wire wall doors, which introduced a system designed not to appear, ECLISSE presents the new innovation of a loom designed not only to appear but to become the protagonist. A frame that shows itself for the first time, «emerging» from the wall and leaving a sign of its presence. The chassis is no longer only a technical and functional element but becomes itself a finishing element.
CHARACTERISTICS
From an invisible and structural element the frame becomes for the first time beauty and design: an anodized aluminum structure that is no longer drowned inside the wall but becomes a piece of furniture, exalting the door as would a frame and giving it unique presence and expressive strength. On the one hand, the frame gives the door a sense of depth with respect to the wall by defining a surface inclined to 40 degrees. The structure empties the surface and highlights the compartment, enclosing the door and welcoming those who cross it. On the other hand, the same frame guarantees the perfect flatness of a wall wire holder, as refined as the wall. Elegance and discretion. An absolute novelty on the market, ECLISSE 40 is a patent for the exclusive use of ECLISSE.
GALLERY