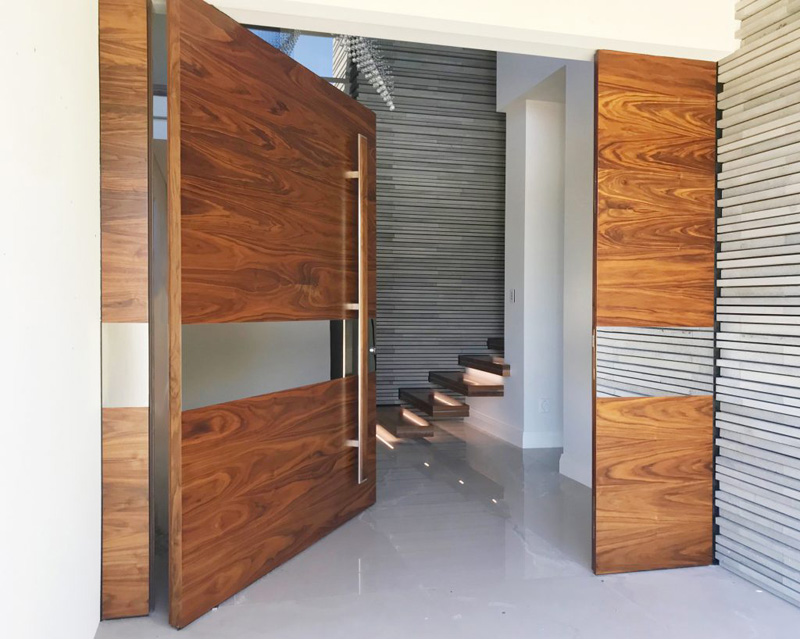 Compact invisible pivot hinge | System One
System One is FritsJurgens' most compact pivot system and excels in its simplicity. It acts as a single pivoting point and is therefore suitable for a broad variation of applications.
Suitable for double- and single-acting doors
360º rotation (or 90º rotation when applied with door frames)
20-500 kg load bearing capacity
Unlimited door widths
Unlimited door heights
No hold positions
System One can be applied to interior and exterior pivot doors in both new and existing situations. System One is very suitable for exterior doors but can also be used to create large statement doors or space dividers.
Technical specifications
The installation of a System One hinged door only requires a top gap of 4 mm and a lower gap of 13 mm. The minimum gap at the side of the door depends on the thickness and the width of the door, in relation to the positioning of the pivot point. With regards to the pressure load, the hinge is attached to a floor plate which, with a door weighing 500 kg, produces a pressure load of 2,33 N/mm2.
Hidden in the door
Every pivot hinge system by FritsJurgens is mortised inside the door. The only thing that is mortised in the floor are the 8 mm long pins of the well-designed floor plate. This means that the FritsJurgens hinges can be applied in new and existing situations, even with radial heating, in only 30 minutes time.
Other FritsJurgens Systems
Every FritsJurgens hinge is made with high performance materials and made to last over a lifetime. They do not require any kind of maintenance and guarantee the highest corrosion resistance. The range of systems exists of four types: System M+, System M, System 3 and System One, all with their own features. Find out which system suits your project with the FritsJurgens system selector.
GALLERY