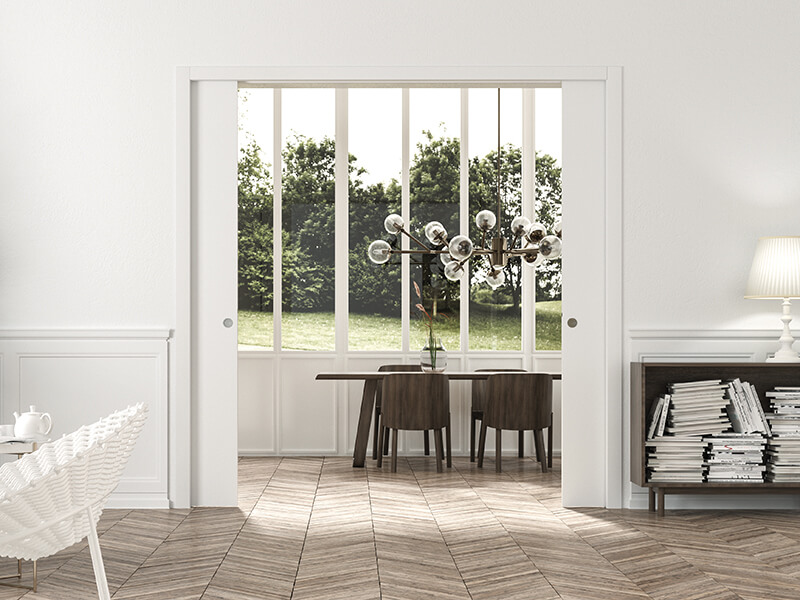 Hidden sliding doors with doorposts
If space is little, it becomes essential to create tailor-made furnishing solutions. The sliding doors, unlike the traditional swing doors, allow you to recover the spaces occupied by the radius of opening of the door and offer a wider, welcoming and with greater possibilities of furnishing. Free from the encumbrance of the swing door, the house acquires a space that can be fundamental for small rooms and allows greater freedom of furniture.
CHARACTERISTICS
The main product of the range is the base model ECLISSE Unico, false frame for sliding door with single door, also available in the version with two mirrored doors ECLISSE Estensione, for an even wider opening. ECLISSE Luce e ECLISSE Luce Estensione are the solutions prepared for electrical wiring and installation of switches and lights directly on the box. One-sided ECLISSE is the solution that allows to accommodate two opposite doors in the same central box, for two adjacent openings with the least encumbrance. ECLISSE 90 is specific for door to book, half sliding and half swing. ECLISSE Acoustic is an integrated and complete system for sliding doors with sound insulation performance. ECLISSE Telescopica frame is designed to accommodate in the same box two parallel doors, for an opening double to the encumbrance of the body, available in the model ECLISSE Telescopica Estensione for maxi openings. ECLISSE Circular Unico and ECLISSE Circular Estensione, finally, are the two bespoke proposals for sliding curved doors, single or double.
GALLERY