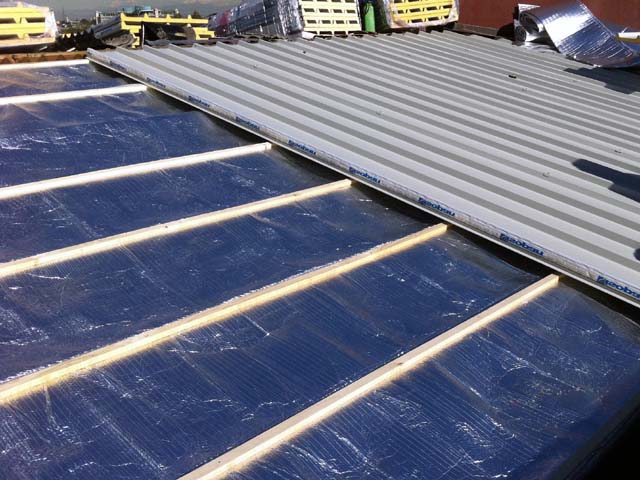 Insulation of the roof
Over-all thermo-reflective insulation can be used in any type of roof and attic, making it the ideal solution for light and performing structures. Depending on the design needs, they can be installed alone or in combination with other insulating panels. They are used on wooden roofs, on the side walls, on industrial roofs and on reconstructions for the disposal of cement/asbestos panels, also in combination with photovoltaic panels.
CHARACTERISTICS
Over-foil BreatherQuilt 11, thermo-reflective insulator in rolls composed of 11 layers including, protected pure aluminum micro-perforated and coupled to a reinforcement net, 4 micro-perforated aluminized films, 5 layers of wadding and an outer layer in breathable waterproof membrane. Insulation certified in accordance with the new European reference standard UNI EN 16012. Over-foil 311 is applied for the thermo-acoustic insulation of external and internal walls and surface coverings. Over-foil multilayer 19 SuperQuiltTM is one of the best performing thermo-reflective insulation materials on the market. Over-foil 2L-2 is applied as the over-foil 311, but the thickness varies from 9 mm to 6.5 mm. Over-foil Climais used in ventilated roofs and ventilated walls, false walls and false ceilings with dry structure. Splendido is a prefabricated panel for roofing.
GALLERY