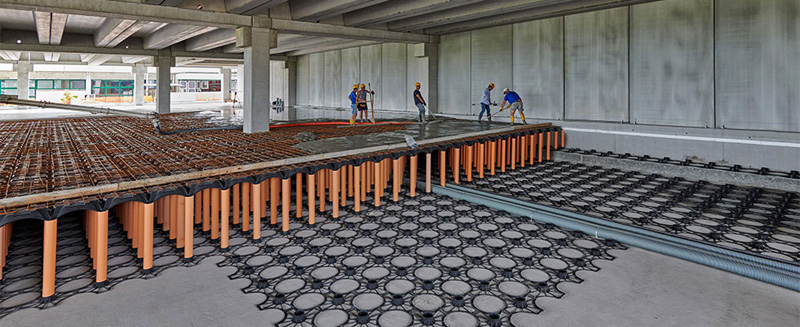 Plastic formwork for foundations and walls against the ground
In the modern construction world, a system for the elimination of Radon gas is increasingly in demand. This type of gas is in fact much more dangerous for our health and is present in our homes. Radon is a radioactive gas that is naturally present in the subsoil, if we are outside it is harmless, but if it accumulates in enclosed spaces it becomes dangerous if no proper ventilation is implemented. The ventilation of foundations is very important to mitigate the problem of Radon. Geoplast offers a wide range of products to create ventilated foundations in different types of buildings: residential, industrial and prefabricated buildings, schools and buildings that need to be renovated.
CHARACTERISTICS
The main solutions proposed by the company are Defender, a recycled polypropylene element that ensures perfect ventilation and drainage of moisture from a building, excellent for the protection of walls against the ground, Nuovo Elevetor, a modular system for the creation of ventilated under-floor cavities of up to 3 metres in height and Modulo, a flagship product, a formwork that enables the creation of a ventilated foundation and the elimination of Radon gas and rising damp.
GALLERY