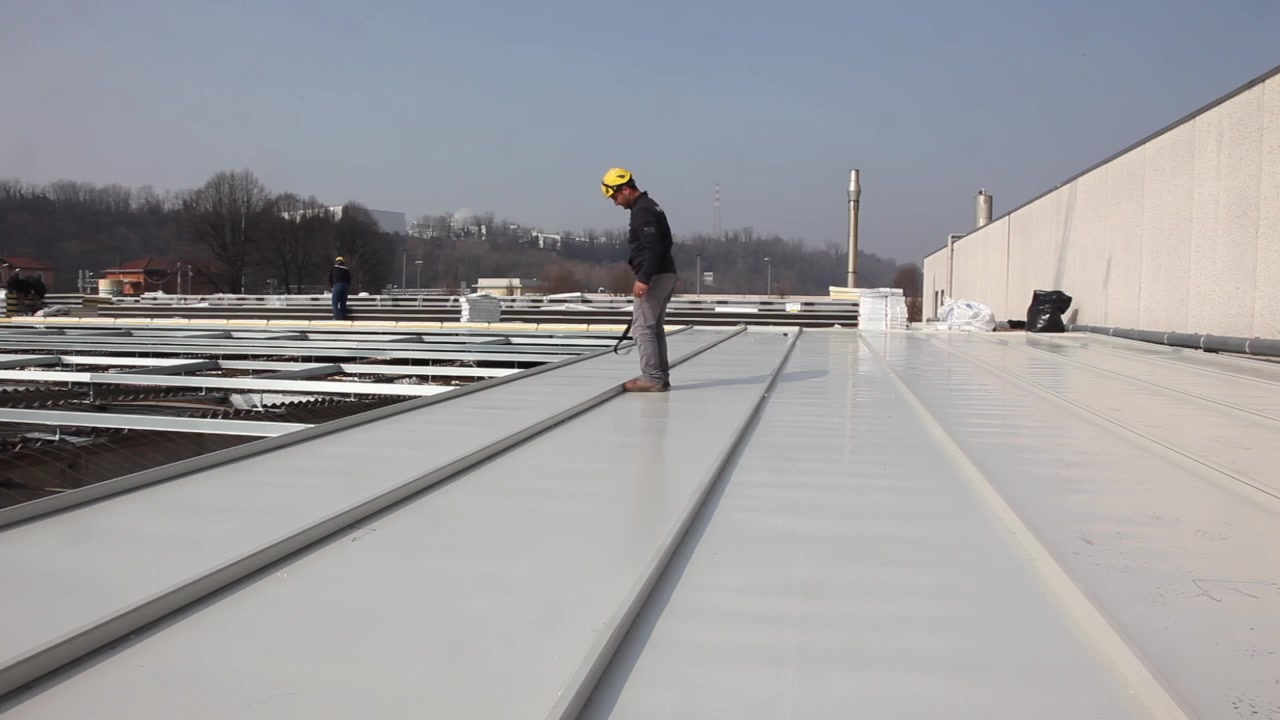 Polyurethane Sandwich Panels
The Lattonedil company is specialized in the production of sandwich panels in polyurethane, designed differently according to the intended use: roofing panels, both for industrial and civil buildings, for movable walls, prefabricated boxes, refrigerating cells, for false ceilings and coatings.
FEATURES
As for the sandwich panels used for roofing, the company also offers different types based on the type of roof being treated. The TTACK is the only panel in the world for flat roofs, which guarantees energy savings, exploitation of maximum heights, time savings, the ISOCOPRE is an insulating panel which is the result of cutting-edge technology, important in contemporary constructions, the EUROCINQUE panel , suitable for both industrial and civil buildings, with two metal sheet coatings, of great aesthetic value, such as EUROCOPRE and EUROTRE, panels that combine cost-effectiveness and quality. The SOLARPAN PLUS is a system proposed by the company, which revolutionizes the installation of the photovoltaic module, by interlocking with the brackets, which has greater performance than the traditional low-cost roofing, which saves on material and assembly time, as well as SOLARPAN PLUS HOUSE which follows the same principle but is intended for civil use. The ENERGY ROOF FV roofing system is composed of an insulating panel that adapts to the type of module that must be installed, also provides for the installation of simple photovoltaic modules, while EURODUE ENERGY is a polyurethane sandwich panel that is designed to be purposely integrated with photovoltaic modules in thin film, cheap, practical and robust. For greater attention to design and aesthetic sense, the company offers the TTCOPPO, insulated panel for civil construction, which simulates the roof tile, the TTONDA, which can be used for both vertical and horizontal roofs, the TTONDA FIBROSO, from retro design, also used in civil construction to restore old roofs. For curved coverage, the company offers ISOCURVO, light and with high mechanical performance, for use in the agro-livestock sector the ISOFACTOR line, which guarantees insulation, mechanical resistance but above all hygiene, and the SOLARPAN FACTOR panels, and, finally, for the areas the rural areas, the TTFACTOR panels, with the maximum aesthetic design, with a tile-shaped design, practical and light. As regards, instead, panels usable in various areas, including walls, the ISOPAR panels can be used to make mobile walls, prefabricated boxes, refrigerating cells, not forgetting energy saving and the importance of architecture, and in particular the panels ISOPAR ELITE, which provide hidden fixing, and ISOPAR ELEGANT, give great importance to the aesthetic aspect. For false ceilings and wall coverings, there are the ISOPAR MONOLAMIERA panels, sandwich panel constitiyo from a rigid sheet support, the ISOPAR FRIGO / GIUNTO INIETTATO, with high thermal insulation performance, ideal for environments where a controlled temperature is required, such as cold rooms or processing chambers.
GALLERY