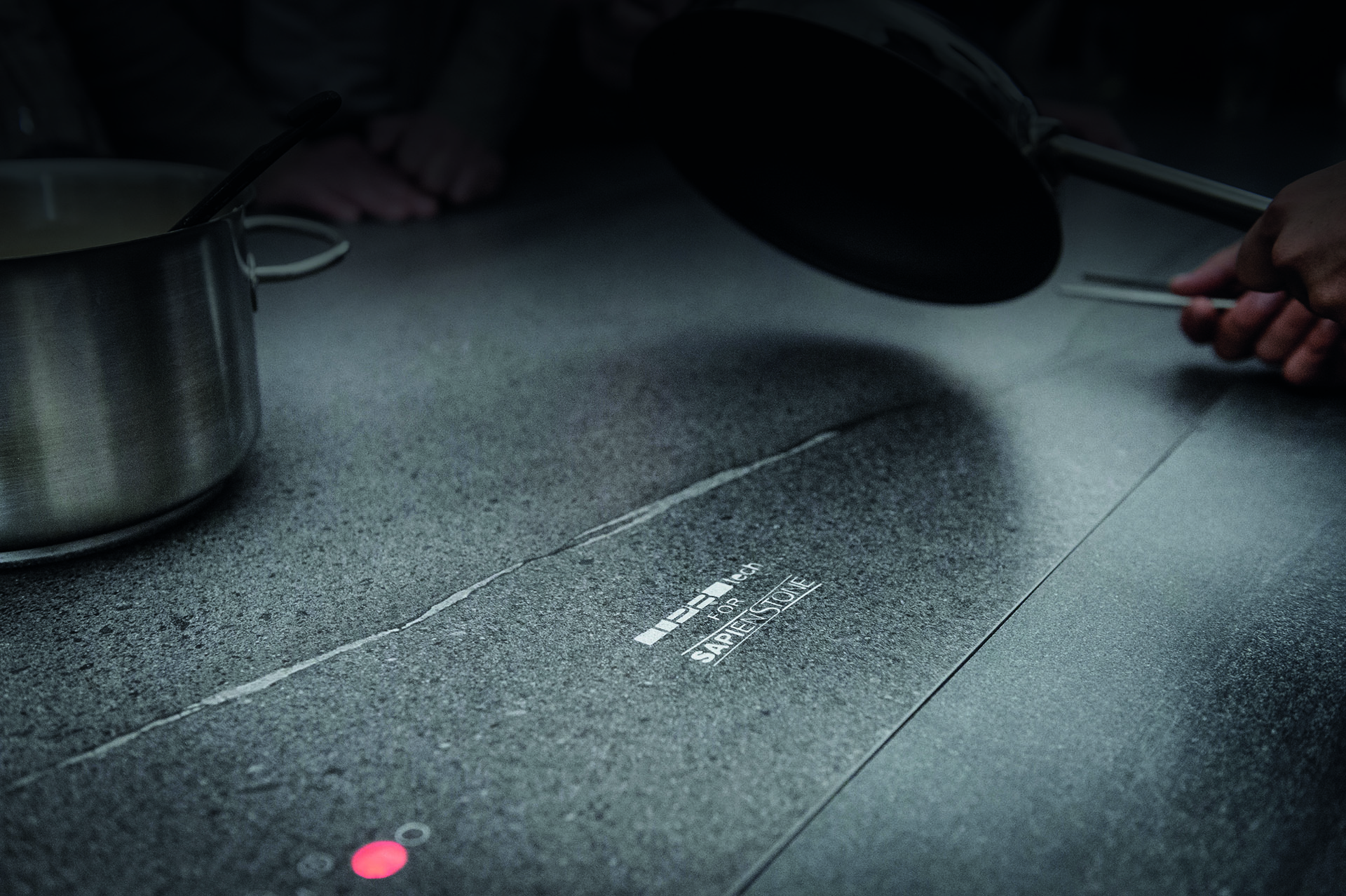 SapienStone TPB tech® Integrated induction cooker
SapienStone, an innovative Iris Ceramica Group brand specialising in top quality porcelain countertops, has set up a partnership with TPB Top PorzelanikBarcelona®, a Spanish company whichis the first on the market to integrate latest generation inductioncookers with touchcontrols in a kitchencountertop. The partnership isinspired by SapienStone's focus on current trends and on the demands of today's consumers, who are looking for kitchen counter tops combining beauty with practicality and technology. The innovative kitchen counter top developed in partnership with the Spanish company combines the technicalqualities of Italianporcelain with an integrated TPB tech® induction cookert hat can be used to cookdirectly on the countertop. SapienStone kitchen counter tops enclose all the expertise of the Iris Ceramica Group: stream linedform and incredible technical properties such as strength, durability and hygiene. An exclusive partnership to make the most of the technical qualities of porcelain in an innovative new kitchen concept.
TPB tech® is the most revolutionary technology ever created for kitchen counter tops, used to cook by inductiondirectly on the worksurface. The cooking area isintegrated with the work area to create a continuoussurface on which to cook and work at the same time.
TPB tech® New generation induction cookers and touch controls are integrated into the kitchen countertop so that the cooking area iscompletely hidden.
Surfaces in porcelainstone ware resist high temperatures, frost and thermal shock. Thesecharacteristics are fundamental in a kitchen, as the frequentcontact with any hot pots and toolsmaydamage the top. High temperatures and sudden thermal changes are unable to affect this material in any way over time thanks to its high technical performance.
As the work top isintensively used in a kitchen, it may be scratched or scoredvery often by sharp or pointed tools, but also by rough every day objects. Porcelainstone ware is definitely the hardestmaterialamongthoseavailable on the market; thanks to itsnaturalresistance, itis the idealchoice for avoidingthiskind of damage and always having a perfect top that will not change over time in the kitchen.
GALLERY