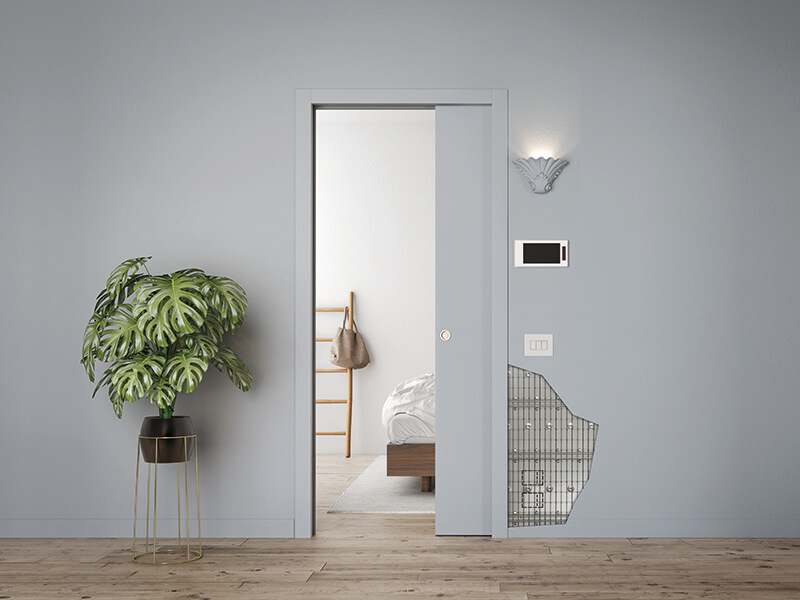 Side frames prepared for light points
The lighting plays a key role in ensuring maximum comfort within an environment, whether domestic or professional. For this reason ECLISSE has patented the first sliding door frame that combines the comfort of the retractable door with that of having a switch right next to the passage. It is an intelligent subframe that allows to place not only switches but also points of light, thermostats and electrical outlets directly on the chest, thanks to a channel that hosts and isolates the electrical wiring.
CHARACTERISTICS
ECLISSE Luce Unico was the first counter-frame in the market with LIGHT System, that is equipped with a special channel inserted in the box and a preforated infill foil that facilitates the installation of the electric boxes (in the plaster version). Particularly useful is the version for double door ECLISSE Luce Estensione, which allows to keep the switches close to the passage even in the case of openings that have a skip on both sides. ECLISSE Syntesis® Luce ed ECLISSE Syntesis® Luce Estensione are the rear frames with LIGHT system without jambs or covers, which combine the functionality of the system with the aesthetic perfection of the ECLISSE Syntesis® Collection.
GALLERY