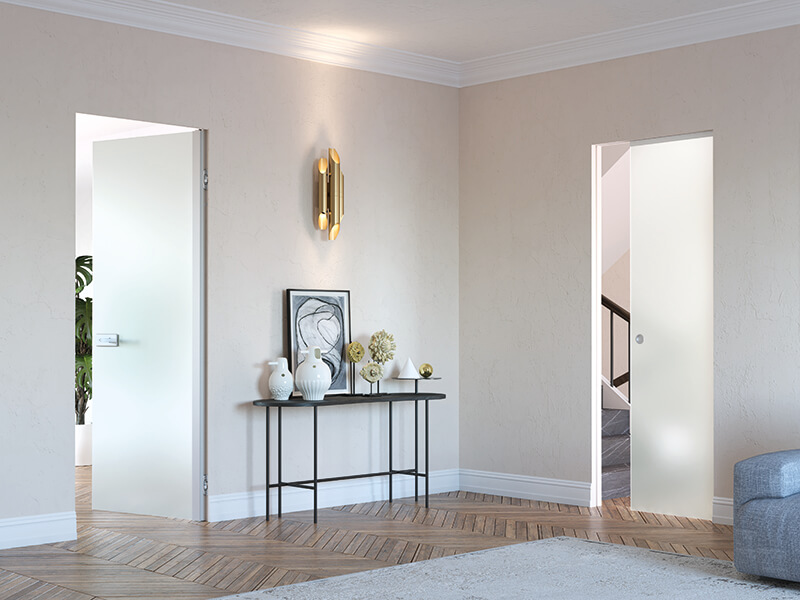 Wire wall sliding and hinged glass doors
The purity of the material and the absence of jambs are the key elements of the glass solutions for ECLISSE Syntesis® Collection. On the one hand there is a wide range of colours and decorations for sliding glass doors, which can be installed on any Syntesis®frame, for single door or for two mirrored doors, thanks to the special accessories and adapters. On the other hand, ECLISSE Syntesis® hinged Glass, a frame designed specifically for the installation of a hinged glass door without external finishes. The exclusive design guarantees the perfect integration of the door with the wall, allowing to realize continuous openings and great aesthetic impact: The single glass door is supported by a vertical anodized aluminium veil while the completely concealed hinges ensure stability and flow.
CHARACTERISTICS
Glass is an architectural material that furnishes in an elegant and discreet way. Easily integrated in different design contexts, it is an interesting solution for the furnishing of living and working spaces: allows light to filter in the rooms giving a wider perception of the spaces to the advantage of living comfort.
All counter frames for retractable sliding doors without external finishes of the collection Syntesis® can mount glass panels: ECLISSE Syntesis® Line, ECLISSE Syntesis® Line Extension, ECLISSE Syntesis® Light and ECLISSE Syntesis® Light Extension require only the installation of dedicated supports and adapters, supplied as standard with ECLISSE panels or separately for panels of other manufacturers. ECLISSE Syntesis® hinged glass is supplied complete with all the hardware and the necessary seals.
GALLERY