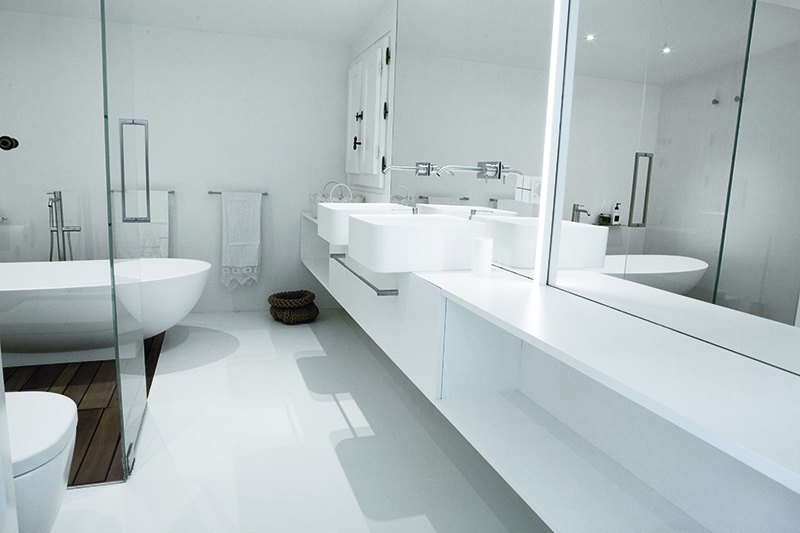 Ecopur
Ecopur is the first continuous surface for floors and coatings, certified antibacterial active, ionizing, which purifies the air, without consuming energy. An innovative technology created through new production processes of materials, able to develop, in a natural way, a series of activators that, through contact with the air, with any type of light and even in the dark, allow to give the surface new properties: purification of the air and antibacterial active. The new technology has been tested by prestigious external laboratories, following the strictest international standards to certify its effectiveness.
CHARACTERISTICS
Ecopur is characterized by the ability to purify the air from pollutants, bacteria, viruses and odors, in a natural way and without energy consumption.
The ionization of the air takes place through a mixture of various natural inerts that are activated without the need of energy, thanks to the presence of oxygen and electromagnetic fields generated in the air. The ionization breaks down the atmospheric dust and activates the oxygen molecules of the air making it purer and healthier.
The antibacterial function is realized thanks to the silver micro salts and particle minerals inserted in it, which allow to block and eliminate the birth and proliferation of bacteria. Ecopur, applied to its surfaces in eco-mortar and Oleomalta, adds to the already known performance and eco-sustainability, the ability to purify the air from pollutants.
GALERIA