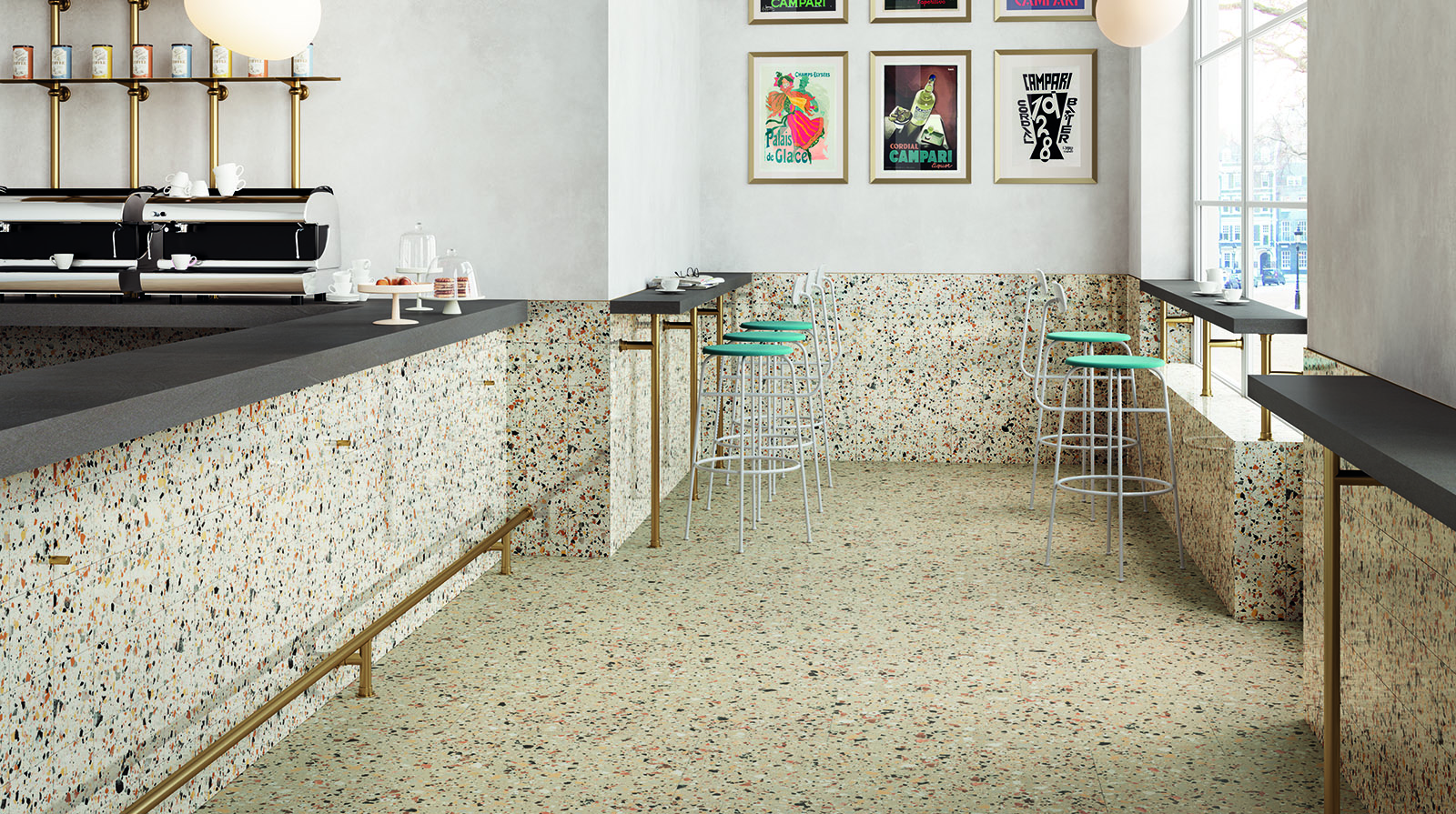 Full-body porcelain stoneware
Rediscovering beauty from history.
FMG reinterprets the tradition of marble chip Venetian Seminato in a lovely collection that exploits the qualities of full-body porcelain stoneware. The shiny inclusions, bright substrate and many color variants create the pattern of Venetian Seminato for interiors with contemporary design inspired by the classical tradition.
Over the centuries, Venetian Seminato has become famous as one of the most original creations of the Italian school of craftsmanship, adding to the splendor of villas and palazzos of extraordinary beauty in the Veneto region, in Italy and worldwide. With its two versions, Venice and Rialto - with two different particle sizes, giving the surfaces a unique variety and identity - the Venice Villa collection reinterprets this noble tradition for contemporary taste. 13 attractive color variants, in 4 inspiring sizes and 3 beautiful finishes: natural, polished and structured. A collection that offers the basis for eclectic, versatile design, in line with the very latest stylistic trends, in the most exclusive residential and commercial contexts. This distinctive collection is one of the finest examples of a centuries-old tradition embracing innovation and new-generation ceramic technology.
Venice Villa offers a range of particle sizes and colors of substrate, within which the marble effect fragments stand out like gems, for countless refined, individual combinations. In Venice Villa, FMG unites the look of marble chip Venetian seminato with the outstanding properties of full-body porcelain stoneware, to create a final image with a stunning interplay of colors. The many hues capture and reflect the light, with chips and inclusions that express the beauty of the inspiration material, accurately reproducing it in ceramic surfaces that are extremely easy to install, maintain and clean.
Venice Villa comes in a large range of sizes (120x60, 60x60, 60x30, 20x20 cm., as well as special pieces) ideal for covering both small spaces and projects involving large areas.
GALERIA