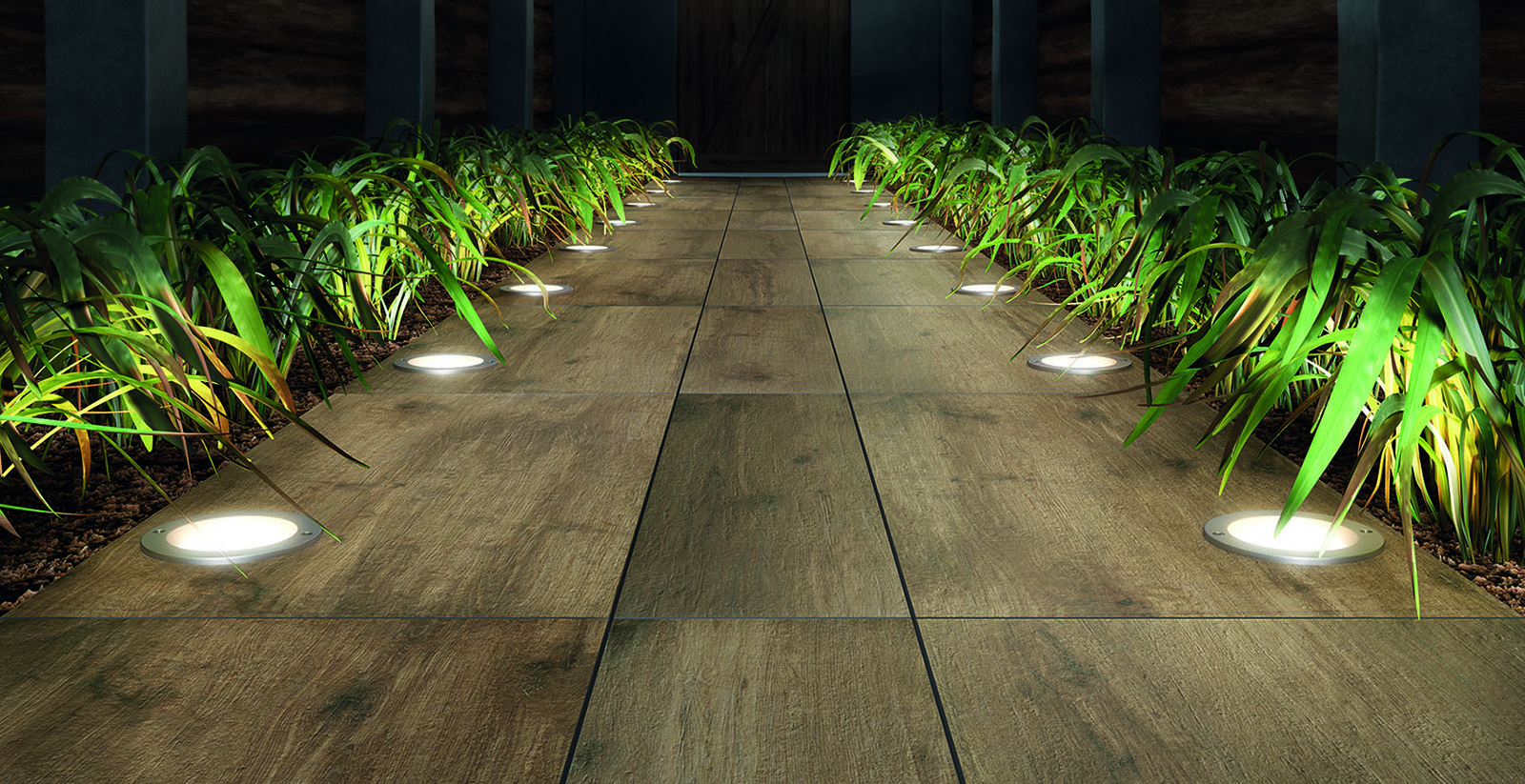 Outdoor Twenty
With the Twenty collection, FMG brings beauty to every outdoor surface, in a material that is tough, hard-wearing, and easy to install and clean. With Twenty, indoor and outdoor areas can be united by a single surface, enhancing the perceived depth of spaces.
Twenty is an outdoor paving system consisting of extra-thick tiles, recommended in particular for homes, public areas and wellness locations. Consisting of a monolithic FMG porcelain stoneware tiles of 60x60 cm, Twenty is a single rectified piece of manufactured natural stone 20 mm thick.
A safe system, easy to install, replace and reuse with no skilled labor required. Immune to mosses and molds, it is unaffected by direct contact with fertilizers or insecticides. It is easily cleaned with standard detergents and a high pressure jet cleaner. It is not damaged by prolonged contact with salt; recommended in particular for zones near the sea (in contact with salt spray) or in the mountains, where salt is spread to prevent ice in the winter months.
There are 5 installation options:
Dry on grass: On grassy surfaces, Twenty can be installed dry without adhesives, with no skilled labor required. It can be walked over immediately and blends perfectly into its context. This simple technique is ideal for creating original paths and walkways, both in large public parks and in the gardens of private homes. With this method, installations can be modified at any time, reusing the same material.

Dry on gravel: As well as looking very attractive within gardens, this type of installation also ensures rapid water drainage. Easy to install, it is resistant over time, with no settling problems.

Dry on sand: An anti-slip surface resistant to prolonged contact with salt. Twenty is the ideal solution for meeting the needs of beach clubs. Since this system is so versatile, the same paving can be used even on different substrates. For example, the same surface can be installed with adhesive in a bar, raised to distribute electricity and water systems on surrounding terraces or patios, and dry directly on sand for paths and service platforms.

With adhesive on screed: Thanks to its outstanding bending strength, extra-thick Twenty is an excellent solution for drive-over surfaces. It does not absorb stains and enables easy dirt removal, also with a high pressure jet cleaner. In urban design works, installation with adhesive on screed is recommended for cycle tracks, pedestrian paths and sidewalks.

Raised pavings: Raised installation is a system which allows the level of the surface to be lifted above the ground. This is done using special adjustable pedestals, to keep the surface perfectly flat in case of architectural or natural differences in height. This solution creates a cavity underneath the tiles, very useful for housing irrigation or lighting systems. Easy to inspect, it is ideal for designing stylish spaces complete with utilities.
GALERIA