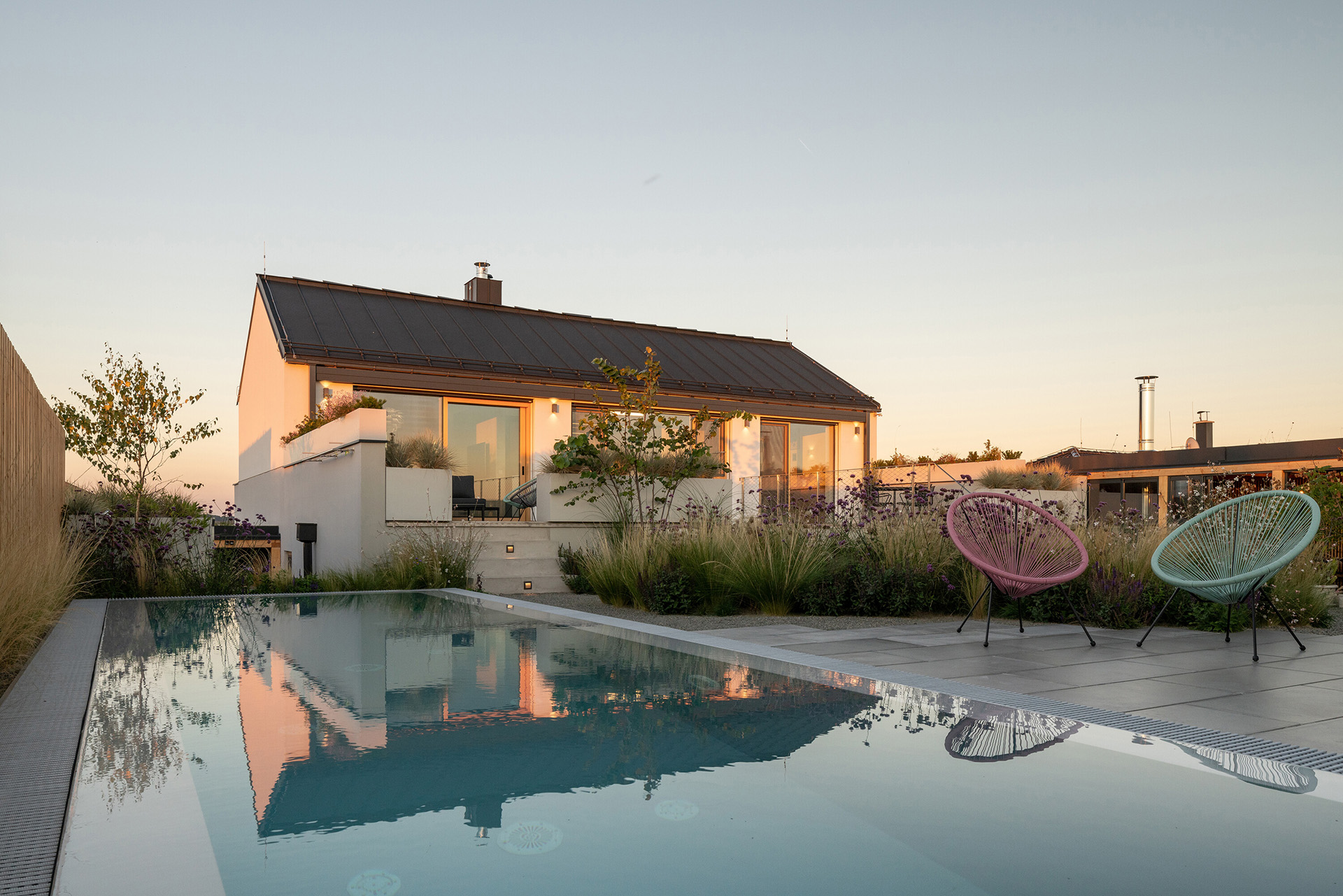 A family home with a garden, the outdoor space as a continuation of the house
The clients purchased a relatively small sloping plot overlooking the hills of Palava, Czech Republic. The brief for the architects was quite simple: "A family house, trying to fit this somewhat unusual lot"
The house is part of a newly built road on the edge of a small Moravian village. The new development does not take into account the traditional row design of local villages. The houses here are not attached and have no unifying features.
The design by SENAA architekti reflects the morphology of the land. A semi-recessed atrium provides a comfortable exit from the ground floor and slopes down to the garden. The garden is an extension of the interior space, with its outdoor living and kitchen-dining area. The general composition of the house is symmetrical. The main entrance is centrally located. A vestibule leads into a spacious hall. The dignity of the space is amplified with the view of the inner atrium
On the ground floor of the house is the private area: the children's room, occasionally also dedicated to guests, facing the street, a bedroom and some service areas - bathroom, dressing room, sauna, technical room.
Centrally located in the dwelling, a sculptural staircase that leads from the hall to the upper living area makes a fine display.
The upper floor features an open space overlooking the roof. The space is designed to accommodate an office, library, bathroom, pantry and a fireplace. The kitchen, living room and dining room are also on this floor, and from the latter two a direct exit leads to the terrace and garden
The house is complemented by a wooden pavilion in the garden with an outdoor kitchen and storage room for gardening equipment. The small outdoor green space maximizes the space available for the family. It also includes a swimming pool with shower, relaxation area, an herb bed, compost area, etc. The house is built of plastered brick, without a basement; the foundation is concrete.
The load-bearing walls are sealed with 500 mm thick ceramic blocks. The ceilings are made of monolithic reinforced concrete. The roof is a combined system of wooden beams supported by steel frames. The upper roof is made of folded sheet metal. The flat roof is designed with a large green area. Another portion of the roof, however, was made of glass to increase natural lighting inside.
Gallery