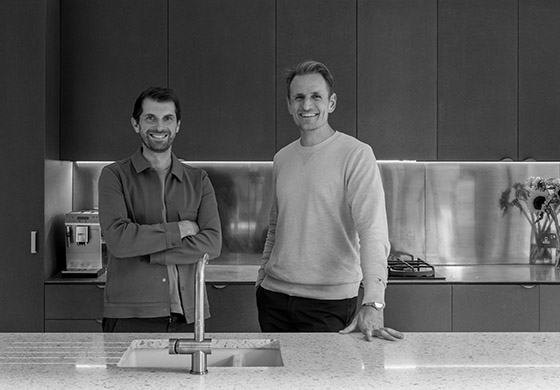 Bradley VanDerStraeten
London Fields Studios 11-17 Exmouth Place London E8 3RW

About Us
Bradley Van Der Straeten is an award winning architecture studio that specialises in refurbishing, extending and building homes for private clients. Established by friends George Bradley and Ewald Van Der Straeten in 2010 the studio loves creating colourful, fun and liveable spaces. To find out more about our story click here
Purpose
The BVDS studio has a strong belief that well-designed spaces can change lives. Designs focus on creating healthy buildings and a positive environmental legacy, combined with a unique approach to problem-solving.
'exceptionally liveable spaces with an eclectic aesthetic' (The Modern House)
What Motivates Us
– Healthy Buildings
We believe that the spaces and buildings that we occupy have the power to improve our mood, health and wellbeing. To find out more about how we approach designing healthy buildings see our 'Seven Pillars Of A Healthy Home' below and read our guide to healthy materials here.
– Environmentally Friendly Buildings
We want our work to have a positive, lasting legacy for the environment. This means constantly investing in knowledge and research to lead towards net zero carbon construction. To find out more about our approach as a company and about being signatories to Architects Declare, see our 'Climate Crisis' article.
– Unique Challenges
We are always on the lookout for projects that are different. We love working with a purpose, whether that is to solve a unique challenge like on 'Two and a Half Storey House' or on something with impact like the 'Nordoff Robbins Music Therapy Centre'. It enables us to flex our design muscles and apply our knowledge to help make peoples lives better.
– Buildings That Are Fun
We don't like doing boring and are really proud of our eclectic mix of completed projects. Every client and every building is unique and we believe that the way they are designed should be too.
Values
BVDS takes pride in honouring it's company values in every aspect of it's service and collaboration. They are how we measure ourselves and how we would like to be measured.
1 Commitment
We are personally and collectively committed to our clients and to creating practical, beautiful and inspiring spaces for them.
2 Accountability
Taking responsibility for our own actions is essential to us and our operations. It is imperative for both the team as well as each individual team member to stand for what they produce and how they deliver our service.
3 Leadership
We are committed to leading our clients through the challenges and rewards of a design and construction process. Each member of the team is a leader by living by these values and for sharing to and learning from each other.
4 Humbleness
Being aware of our own limitations and knowledge is imperative to success. We remain humble by staying open to perspectives different from our own and by welcoming valuable contributions from others.
5 Transparency
We aim to be as transparent as possible throughout with our communication, relationships, fees & service promoting inclusion to our common goals.
6 Integrity
Being authentic in keeping our promises and fulfilling expectations is something that starts from the first pencil stroke through to the delivery of the building.
Seven Pillars of a Healthy Home
As well as being a financial investment, a building is also an emotional investment that should make the occupants feel safe, comfortable and happy. At Bradley Van Der Straeten we are passionate about the power of good design on wellbeing and have developed seven design pillars that are essential considerations for a healthy building;
Light / Space / Air / Heat / Sound / View / Materials
These seven pillars form the foundation of how we design every project and we share our knowledge with our clients to help them make better and informed choices for themselves. For more information on one of the key pillars, Air, read our article about Toxicity In The Home.