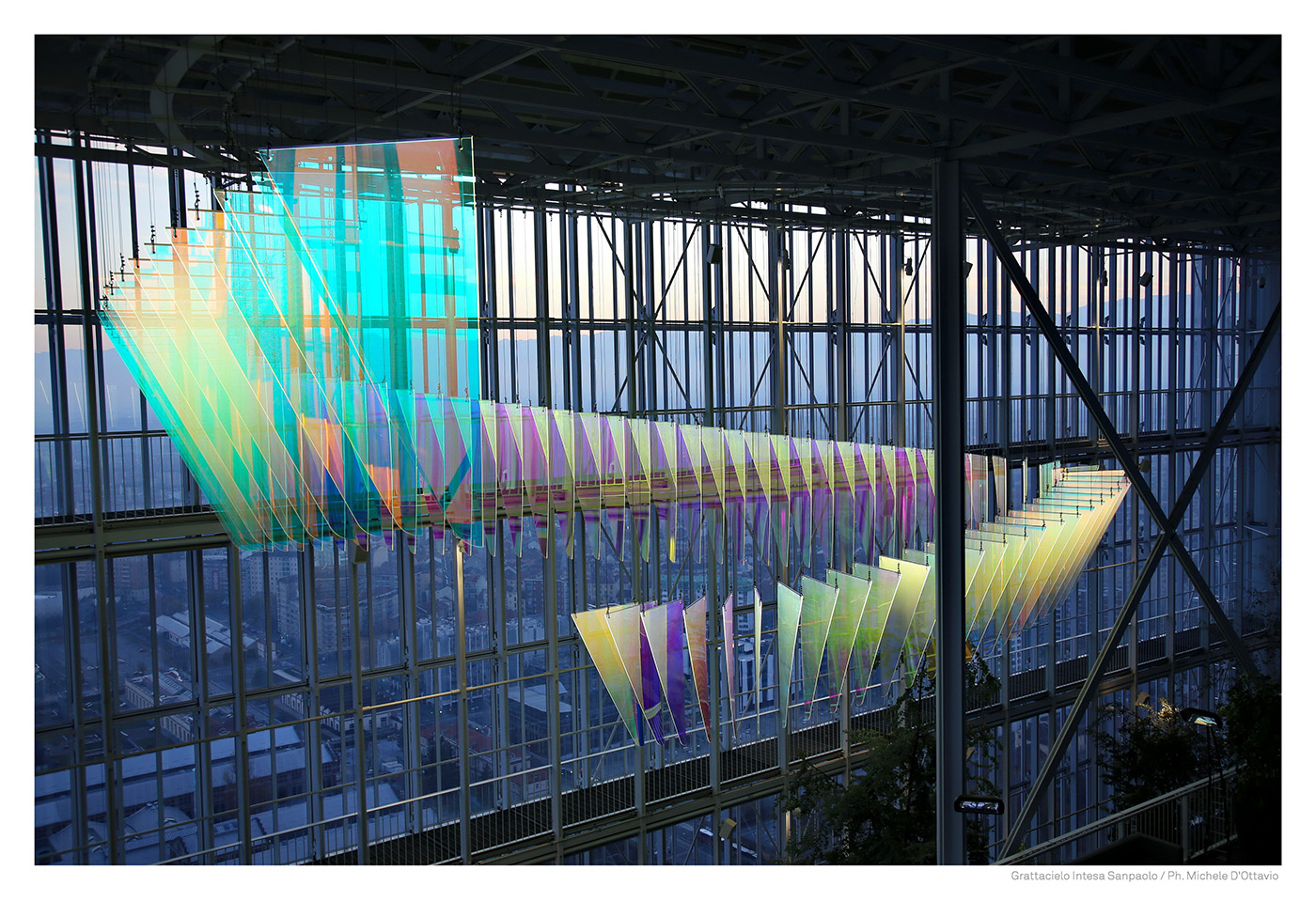 Artistic Lights in Turin. 100 luminous flecks become a unique form and structure
The installation created by Migliore+Servetto Architects for the Intesa Sanpaolo skyscraper in Turin on the occasion of " Artistic Lights " is a dynamic work in which light and reflections expand, making it a pulsating structure.
The work, which was launched on November 20, is divided into two elements shaped like the " alpha " sign. The repetition of this ancient character, loaded with positive elements with a reference to the origin of everything, creates a spiral movement that moves from the inside to the outside of the building.
It is in the heart of the skyscraper, inside the bioclimatic greenhouse, that a wave of color, sensitive to changes in light, penetrates the space up to 16 meters in height. 100 luminous flecks, like frames in stop-motion, generates thanks to an innovative technology, an iridescent vortex made lively and shimmering by the brightness that the object itself radiates and in harmony with the constant reflection of natural light.
A wave of dynamic light that expands in the facade at a height of 145 meters, 1 km of flexible fiberglass ribbons sways in the wind, creating an infinite repetition of the alpha sign which, thanks to light assumes a powerful fictional effect.
Ico Migliore and Mara Servetto work on single elements that, when added into space, become a unique form and structure. Density therefore, not different forms. The single elements are composed in different scenarios where transparency and lightness are then transformed into action, movement and light.
Advanced algorithm-based screen printing technology has been applied to the suspended methacrylate sheets to achieve optimal light diffusion, transforming them from transparent elements to dynamic planes of light. In addition, a special dichroic film, calendered on one side of each slab, pulverizes the light into a hundred reflections in space, making the installation lively during the day, with a significant presence.
The illumination, which has as low consumption LED light sources, is controlled through a DMX system for the creation of an attractive scenery that enables the variation of intensity at different times of day, modulating the brightness in accordance with the level of light present in the space, with an emphasis on controlling consumption.
The luminous installation as a whole therefore constitutes a changing presence, which resonates and vibrates in harmony with the wind and the structure, adapting to natural light and transforming itself into darkness.
It's like entering into the form of a tree or into the infinitesimal interior of a complex organism, in a natural landscape where shadow, light and atmospheric elements enter and influence perception. Perception, in actual fact, further varies according to distance and perspective. The project consists of two installations, one external and one internal, which are in close accord with the place and the horizon for which they are designed as if they had grown spontaneously like new fictional structures in the inhabited landscape.
Gallery