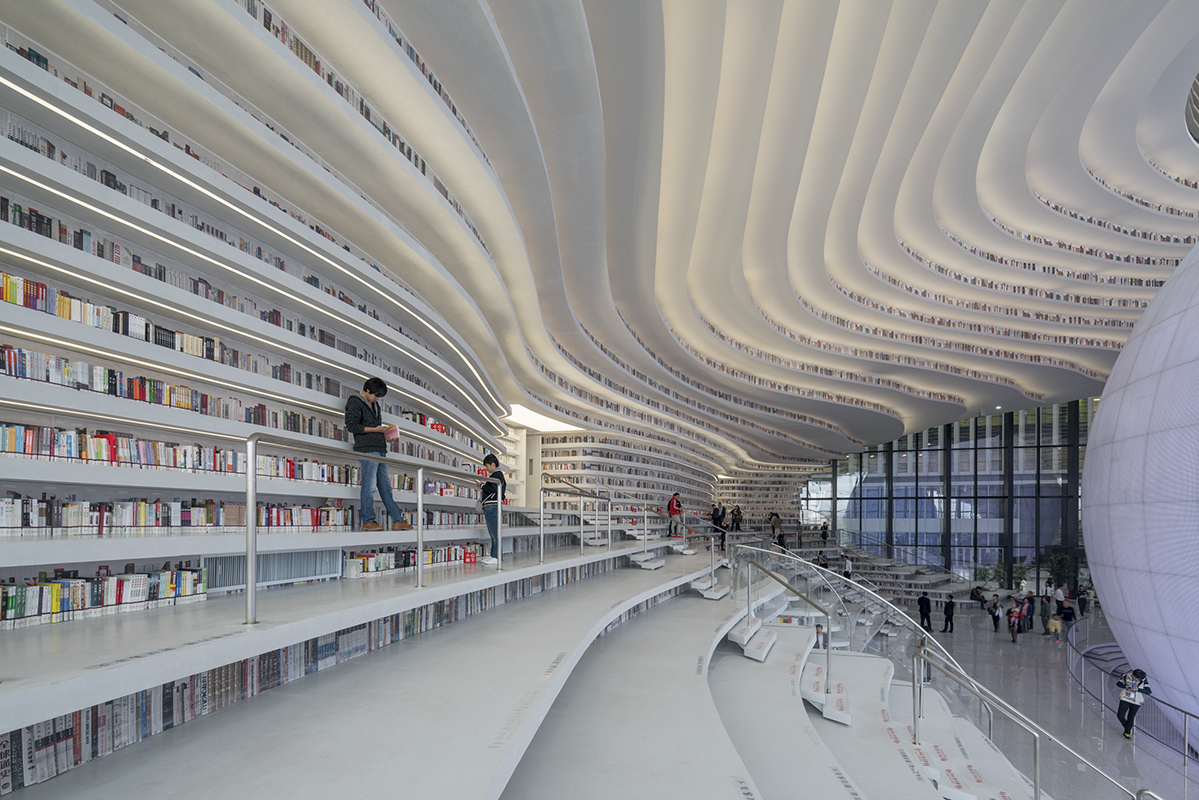 Cultural District for the City of Tianjin in China. Waterfall Bookstores and Social Space
The MVRDV Studio collaborates with Tianjin Urban Planning and Design Institute to create the Tianjin Binhai Library as part of a masterplan. A cultural district for the city, whose project concerns a spherical auditorium, where the library merges with the social space.
The 33.700m2 cultural centre, with a bright spherical auditorium and bookshelves cascading from floor to ceiling, is designed not only as an education centre, but also as a social space and connector from the cultural park. An oval opening runs through the building, the auditorium is dominated by a luminous sphere. Terrace shelves echo the shape of the sphere, creating an interior, topographic landscape whose contours extend and envelop the facade. In this way, the stepped shelves inside are represented on the outside.
The futuristic library is located inside a sheltered gallery, surmounted by vaulted arches in the shape of a cathedral, which runs along the entire scheme. The five-storey building also contains large educational facilities, arranged along the edges of the interior and accessible through the main atrium space. The public service is complemented by underground spaces, book storage and a large archive. From the ground floor visitors can easily access the reading areas, the auditorium and the entrance hall. The first and second floors consist mainly of reading rooms, while the upper floors also include meeting rooms, offices, computer and audio rooms and two rooftop courtyards.
The Tianjin Library is part of a 120.000m2 master plan created by GMP architects, which aims to accentuate the characteristics of the surrounding neighbourhoods. Through its design, the complex becomes a connecting point for the CBD, the old city, the residential neighbourhoods, the commercial areas and the government neighbourhood. The exterior volume of the library has been created so that its semi-public area is still an interior space, like an inverted icon, acting as a central point of the building.
The bookcase was a very fast project, it took only three years from the first sketch to the opening. Due to the rigid construction program, the excavation of the site immediately followed the design phase and an essential part of the concept had to be dropped: access to the upper shelves. This change was made against the advice of MVRDV and therefore access to the upper floors is currently impossible. The complete concept of the library may be implemented in the future, but until then printed perforated aluminium sheets will represent the books on the upper shelves.
Gallery