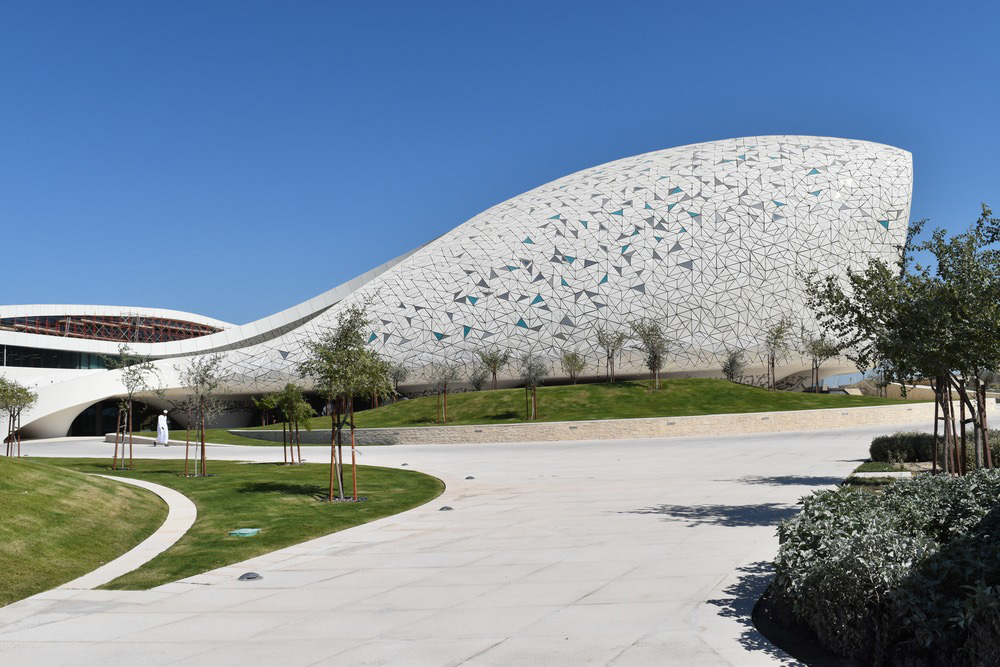 Faculty of Islamic Studies in Qatar. Architecture becomes pivotal for Didactics and Worship
The Faculty of Islamic Studies in Qatar is located at the Education City Campus in Doha, based on the designs of the MYAA Architects. Architecture has quickly become a focal point not only for students, but for the community as well
The project will provide world-class teaching and the faculty space and the mosque of the Education City campus.
The building is based on the Islamic "Kulliyya" or "place where all knowledge is sought" and provides a progressive learning environment that puts the institution at the forefront of contemporary Islamic pedagogy, counteracting the deteriorating image of Islamic education.
Kulliyya implies that knowledge and faith are intertwined, but that all knowledge ultimately comes from faith. This relationship is explored by QFIS through the endless plan of spiral construction and the multiple routes linking the faculty to the mosque.
Uniquely for the Muslim world, the project offers equality among students by providing a co-educational and non-hierarchical space in which men and women are considered equally. The architectural composition envisages the large volume of the mosque on the one hand, with the library, classrooms and faculty offices in between, culminating in two minarets that are 90 m high.
The mosque is elevated by the "five pillars of Islam" with inscriptions in Koranic verses referring to Hajj, fasting, charity, prayer and belief while the columns create a beautiful underpass leading to the entrance of the students.
The educational accommodation is both formal and informal and includes the use of corridors, living rooms and learning lessons in the Islamic landscape garden. The faculty is symbolically separated from the mosque by a cascade of four-storey ablutions surrounding an undulating staircase that serves as a calm meditative point before entering the space of the mosque.
The design is inherently supportable; the large south-facing mosque automatically shades the pattern. The subsoil is a shaded temperate space. The classrooms are equipped with cool courtyards and the ceramic cladding reduces solar heat while letting in natural light. The heights incorporate a two-layer modulated façade that changes around the buildings to mitigate solar radiation. The Islamic garden creates microclimates that enable learning in the open air for about 5 months in a year. The native plantation uses little water and is irrigated using gray water from the ablution of the mosque.
The building quickly became a focal point not only for students, but for the wider community, empowering the building to break down class barriers and social status. In a troubled world, it suggested that an Islamic space could be contemporary, progressive and inclusive but, above all, it could act as a beacon of hope in opposition to the nihilist conflict that has plagued the Middle East region.
Gallery