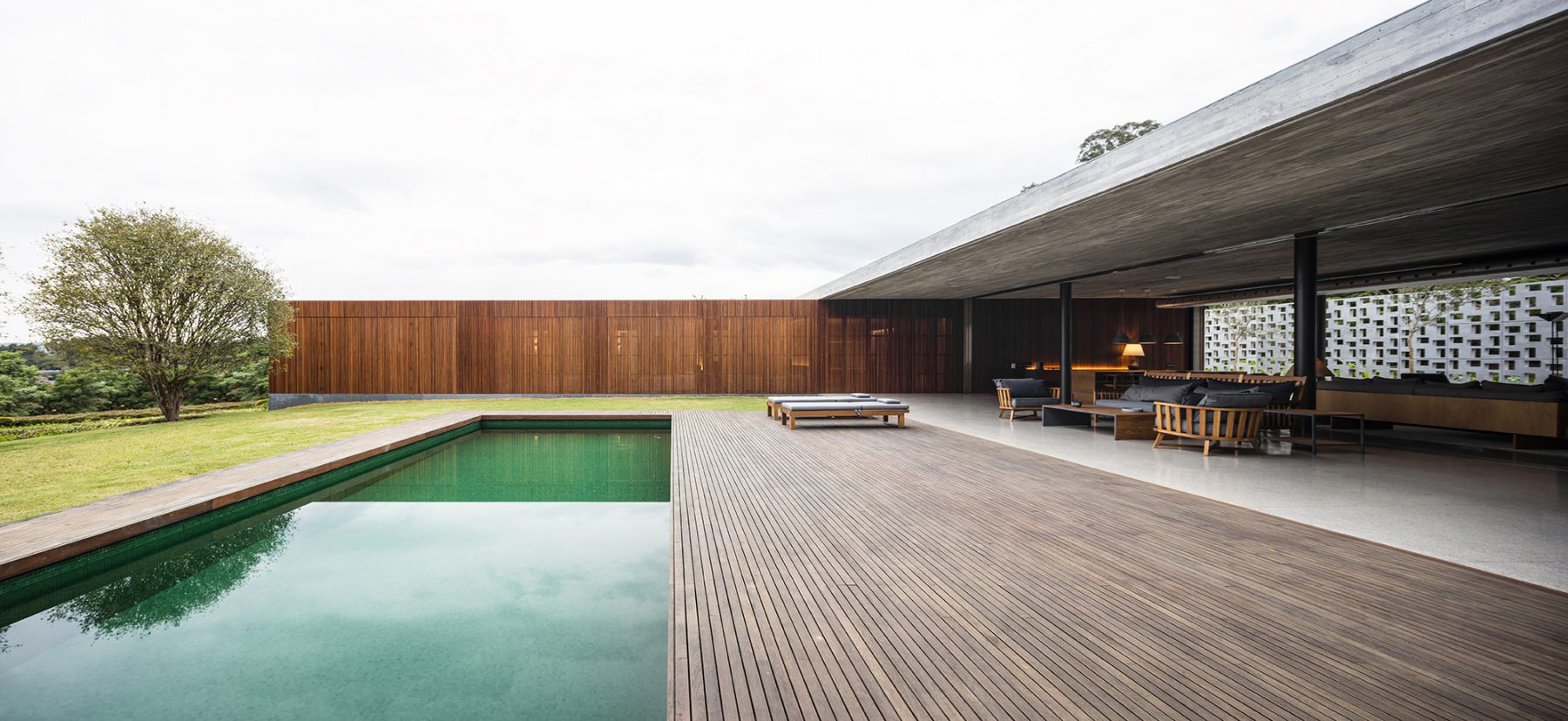 " Fazenda" house in Brazil. The Overhang made of reinforced concrete merges with the Stone
Located in Porto Feliz, Casa Pasqua is a modernist project by MK27 Studio, which merges reinforced concrete with stone, to integrate with nature and make it penetrate into the house, through large openings and unlimited spaces.
The reinforced concrete is used to create an imposing and free architecture, softened by the use of stone, this modernist project of the Brazilian MK27 Studio thus looks for an integration between architecture and nature.
Casa Pasqua, in Fazenda da Boa Vista, in Porto Feliz, consists of a ground floor, which forms an "L": a completely permeable volume with direct access to the garden. This arrangement makes use of the land and represents the difference between the social and intimate uses of the residence. The concept of "quarry" offers unlimited privacy over the landscape, where the passage of time is marked by the entrance of light, which with different intensities creates patterns of light and shadow on the floor.
The main entrance is discreetly positioned on the side and is bordered by a wall made of prefabricated concrete slabs painted white that defines the subtle relationship between exterior and interior, with a delicate view of the tree-lined walkway that is seasonally tinged with deep red. The side walls of the building are made of local rustic stones that visually contrast the protruding elements of the reinforced concrete and connect the semi-private space with the intermediary garden, becoming a completely exposed social area.
The distribution consists of two cores: one social and one private. In the social area, the use of transparencies and the possibility of completely opening the windows articulate the garden, creating complete views of the ground. The social core merges with the ground, thus creating only a volume and a large terrace. Due to the high temperatures of the region, the need to use air conditioning has been reduced to a minimum thanks to the cross-ventilation created by the concept of the project: the concrete slab projected four metres from the façade protects the premises from direct exposure to sunlight.
The spatial connection between the two cores is done through the kitchen. The private core of the dormitory is identified with the use of "muxarabis" wood panels as a closure. These determine the level of interaction and permeability between the cores, allowing a direct relationship with the garden and the pool or acting as a visual shield. Furthermore, the panels ensure that the rooms are protected from the impact of the sun and promote environmental comfort.
The use of reinforced concrete, a material considered too modern and cold in this case, redeems its potential, becoming an element of connection with nature.
Gallery