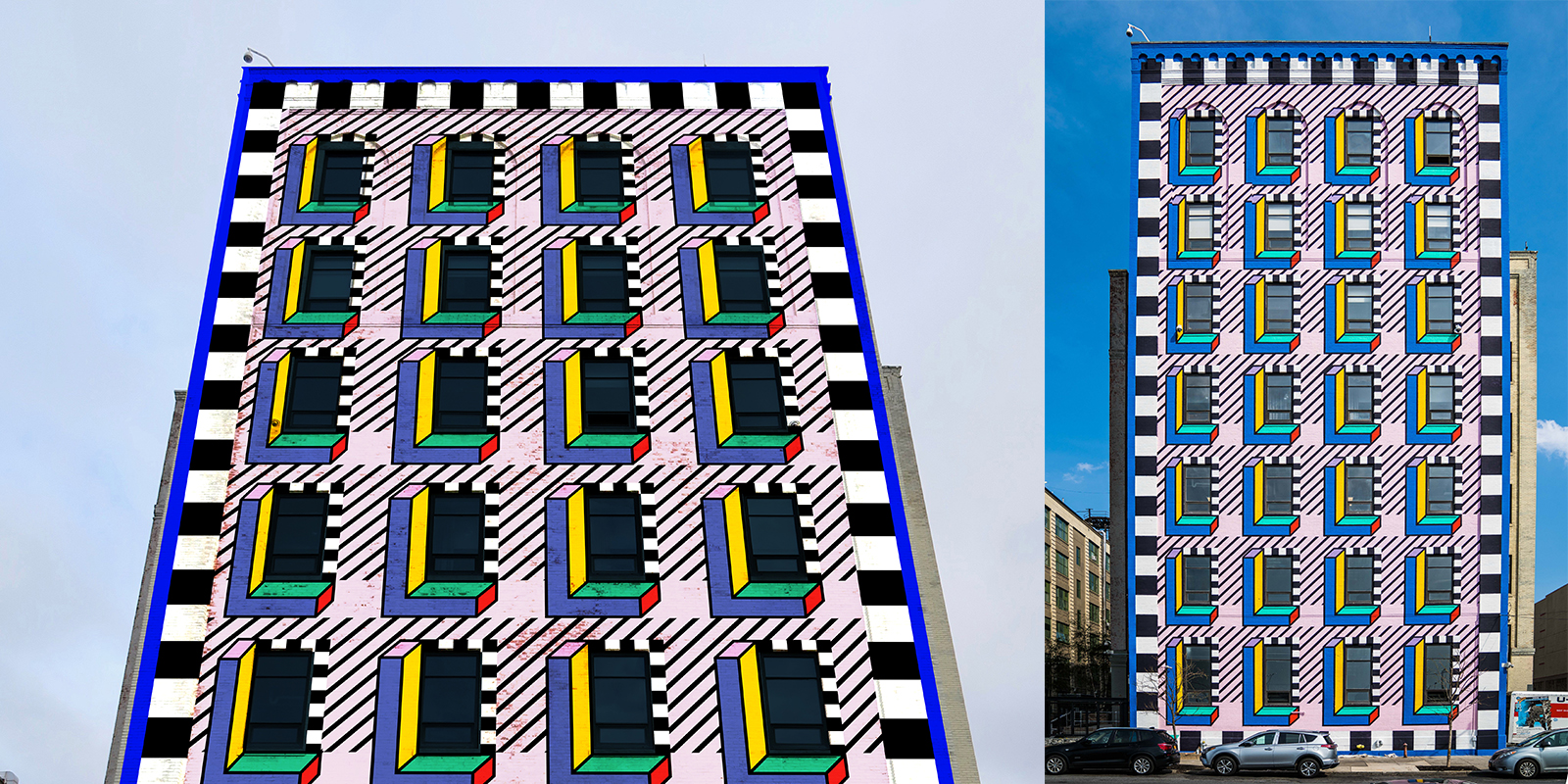 Graphic Design for a building in Brooklyn. Facade like a huge drawing sheet
Camilla Walala reinvents the façade of a historic building in Brooklyn on the occasion of WantedDesign NYC 2018. The graphic project will have a permanent character, in which the design goes from an A4 sheet of paper to a 40-metre strip, reinventing the city's mink.
The artist Camille Walala leaves marks all over the world with her bold colours and graphic motifs. Known for her large murals and playful interactive installations, she arrives in New York with a series of projects for WantedDesign NYC 2018, the international design show hosting events in Manhattan and Brooklyn during NYCxDESIGN from May 17 to 21.
WantedDesign commissioned Walala to permanently reinvent the façade of a historic seven-story building in the creative centre of the Industry City in Brooklyn. At 40 metres high, the project will be both her biggest commission in New York City and her tallest building to date. Currently home to a number of design studios spanning several disciplines, the Sunset Park building is an important venue for NYCxDESIGN, currently housing a number of design studios spanning several disciplines
Camille has developed a striking 3D effect POP design that accentuates the architectural features of the building and incorporates a colour palette inspired by its setting. Transforming the design from an A4 sheet of paper into a 40-metre band was a challenge, as small details can look very different when enlarged several times. Walala and her team worked with decorative painters from EverGreene Architectural Arts, specialists in the Industry City construction industry to create the mural, using paint from French colour experts Ressource Peinture and with the support of Spring Scaffolding and Value Construction.
Taking advantage of Visual Magnetics' customizable ferrous coated fabrics, Walala has designed an infinitely reconfigurable graphic mural, 4.3 m x 2.4 m with different shapes that can adhere to specially adapted wall surfaces and can be moved as desired. The installation will permit those visiting WantedDesign to interact directly with Camille's distinctive approach to colour and form, creating their own interpretation of a work by Walala.
Gallery