Hotel and decoration in Mauritius. The importance of colour culture in interiors
Salt of Palmar is designed to develop sustainability and connect with the local community. Its creator, Paul Jones, impressed by the affinity between Camille's art and the importance of colour in Mauritian culture, chose it to furnish his interiors.
Salt of Palmar is the first of a new family of luxury hotels located in Mauritius, Turkey and China. Designed to develop sustainability, connect with the local community and introduce culturally inclined travellers to the real, raw Mauritius, the first Salt of Palmar hotel occupies a dramatic, geometric riad-like building created in 2005 by Mauritian architect Maurice Giraud.
Then Camille was invited to handle the interior of Salt where her team created interiors by using colour as the connection between the interior and the place for both, the colour is a vehicle of joy and a means to express positivity. As the whole concept of Salt is rooted in the authentic expression of the destination and helps guests create a meaningful connection with their surroundings, the most important aspect of Camille's brief was to draw inspiration from the country itself.
Camille and her longtime collaborator, Julia Jomaa, therefore decided to explore the island to find ideas for the colour palette, looking at both the natural landscape and the man-made environment as a first step in this project. The result balances the natural tones and vibrant Walala pop notes and features a recurring pattern of black and white stripes.
The result is bright and bold colours found all over the island, in fact, people paint their houses in the most surprising tones that are distinguished by the lush tropical setting, from the emerald green of the plants to the iridescent colours of the sky.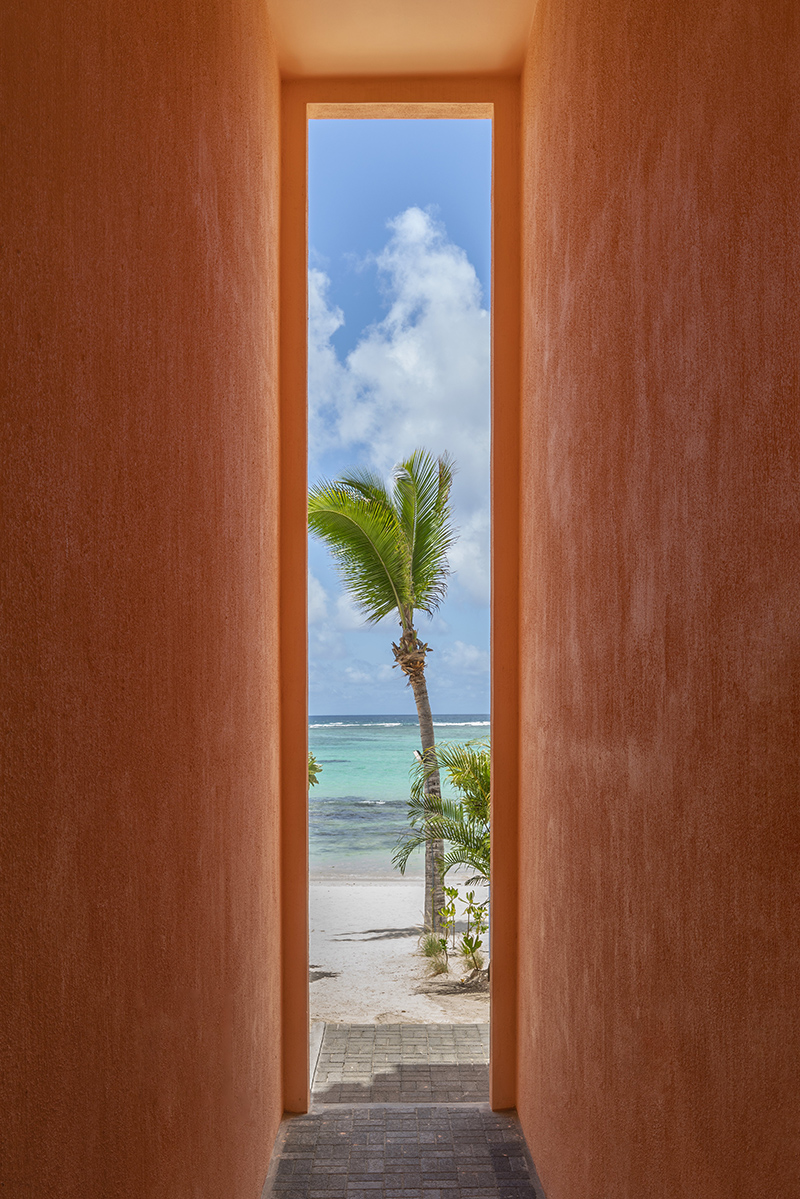 For this project, Camille Walala worked closely with Mauritian architect John-François Adams to create her interior vision for the hotel's 59 rooms and public areas, transforming ideas on Camille's atmospheric tables into lively and spectacular environments. Camille and Julia also drew on Adams' local experience to recruit the area's most talented artisans to design customized pieces for the project.
The culmination of this collaboration between artist, architect and craftsmen is a hotel that seems unlike any other on the island. Where most resorts take their design model and incorporate it into their environment, Salt has done the opposite, channeling the colours and surrounding community to shape its appearance. Camille's task was to find the perfect balance between her creative impulse and the authentic expression of the island's character: a fresh, playful and irresistibly positive vision.
Gallery