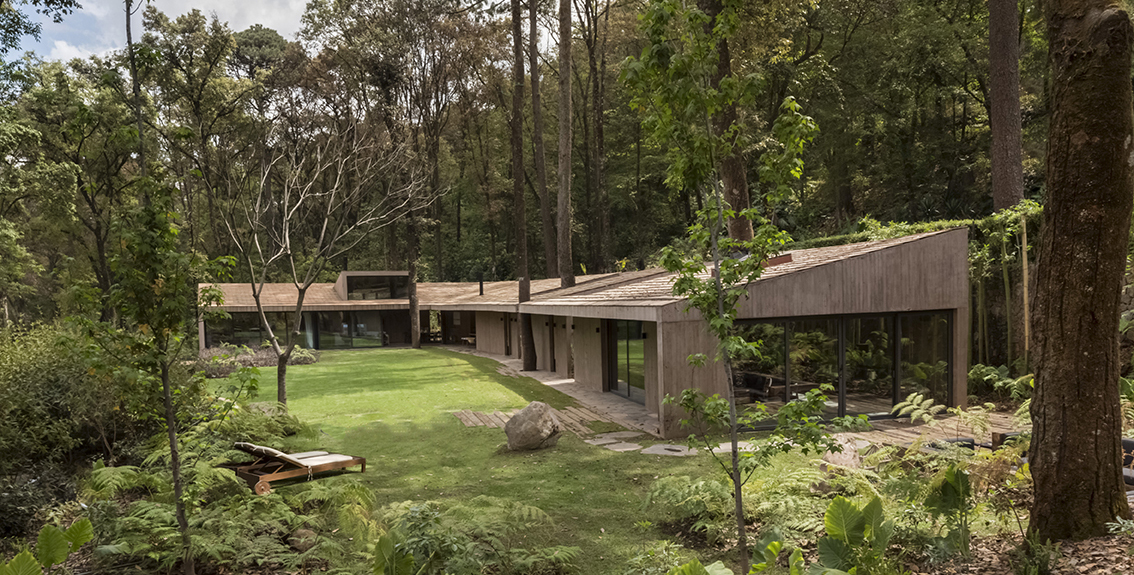 In Mexico a Villa surrounded by greenery. The natural architecture defines the project
A house for the Week End where the two volumes are developed around a central patio. Studio Dellekamp Arquitectos makes nature the protagonist of the project, respecting its architecture and accentuating it with materials and open views towards the lake.
"The Weekend House" was created by the union of two volumes that make up an "L". The house is spread over a single floor, all enhanced by a covered terrace. The design is "intertwined" with the vegetation of the land developing into the type of "patio house". Its plan is developed in its longest volume with two courtyards that preserve the trees and, at the same time, allow them to permeate with the intention that the vegetation will take control of the courtyards, building a house in the courtyard and not courtyards in the house.
The layout of this house allows both guests and owners to inhabit the spaces in complete independence, with a terrace that serves as a mediating element and shared space. An internal perimeter corridor connects the different rooms, in keeping with the type of housing that requires a cloister. The project offers an opening to the garden and vegetation at all times. The characteristic French window door, present in all the perimeter spaces of the house, opens towards the view of the Valle di Bravo lake.
At the extreme ends of the house you can find intentionally unfinished courtyards without roofs that look like ruins. The covered terrace becomes the main "protagonist" both because it creates interaction between the owners and guests since this is the public area of the house and because of the view it offers.
Gallery