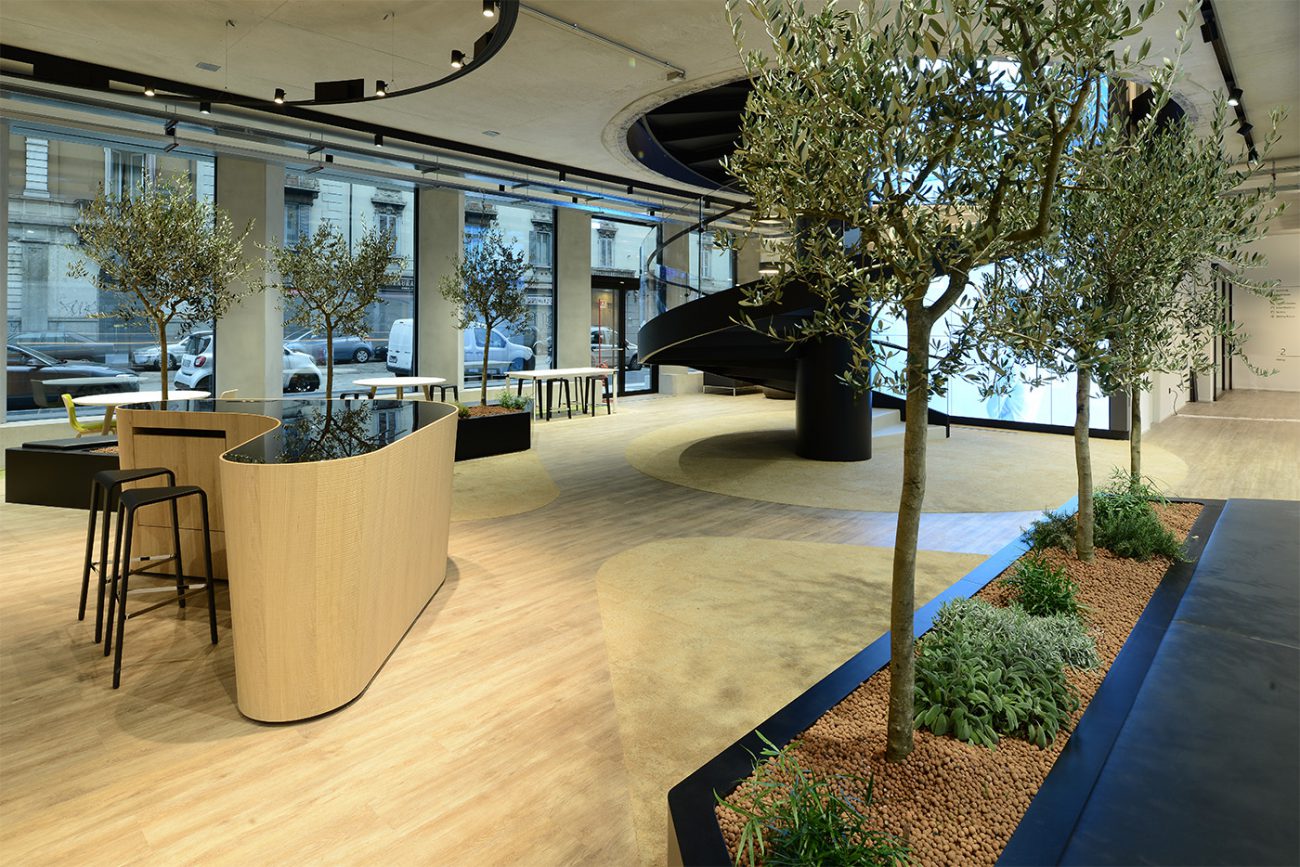 Interior design in Milan. Open Space and Green Design for Microsoft House
DEGW's interior design for Microsoft House follows the guidelines of the IT company that for years has undertaken a pathway focused on well-being and the reconciliation of the personal and professional needs of its employees.
DEGW, a brand of the Lombardini22 Group dedicated to the integrated design of work environments, takes care of the interior design of Microsoft Italy's Milan office, joining the path that the IT company has been following for years under the banner of "New World of Work", where well-being and reconciliation of personal and professional needs are the fulcrum around which revolve the management of time and system of work, and where flexibility is a fundamental tool in achieving objectives.
For Microsoft House, DEGW creates interiors that represent a new model where corporate values merge with new ways of meeting and working, creating innovative, functional and experiential environments. Smart working is a path of development and innovation that allows the organization to grow and find resources of enthusiasm and energy.
The building is on 6 floors above ground. The ground and first floors, connected by a central staircase are dedicated to the Customer Area which is open to the public and also hosts product showcases. From the second to the fifth floor are spaces reserved for employees and collaborators of the company where the architectural choices create a warm and welcoming environment characterized by the use of natural materials such as wood
The 7,500 square meters of Microsoft's headquarters are designed according to a free and fluid organization of spaces. The Open Spaces dedicated to the work areas do not have any dedicated workstation: each person is free to move around in the various environments according to their needs.
On the operational floors, the workstations not assigned to Open Space differ in form and aesthetics, according to functions and needs. A particular design of the clusters, finishes, furnishings and floors helps to differentiate the types of work carried out in the various areas of operation. Different elements create sub-areas to reconcile the transparency of the spaces with an excellent acoustic and environmental performance.
For tasks that require particular concentration, "Smart Platforms" have been created, workstations located inside metal structures and enclosed by acoustic panels and sliding boards. For collaboration and brainstorming activities, "Creative Gardens" have been created, high-performance acoustic zones made easily recognizable by the wooden structures that frame them and by the presence of greenery and plants.
In the iconic building of Herzog & in Meuron, DEGW, in collaboration with FUD Brand Making Factory, another brand of the Lombardini22 Group that has followed the development of the integrated communication system, realizes the precise project of creating for Microsoft a mix of interior spaces, 100% made in Italy, in line with the company values: openness, visibility, flexibility, energy, dynamism and innovation.
Gallery