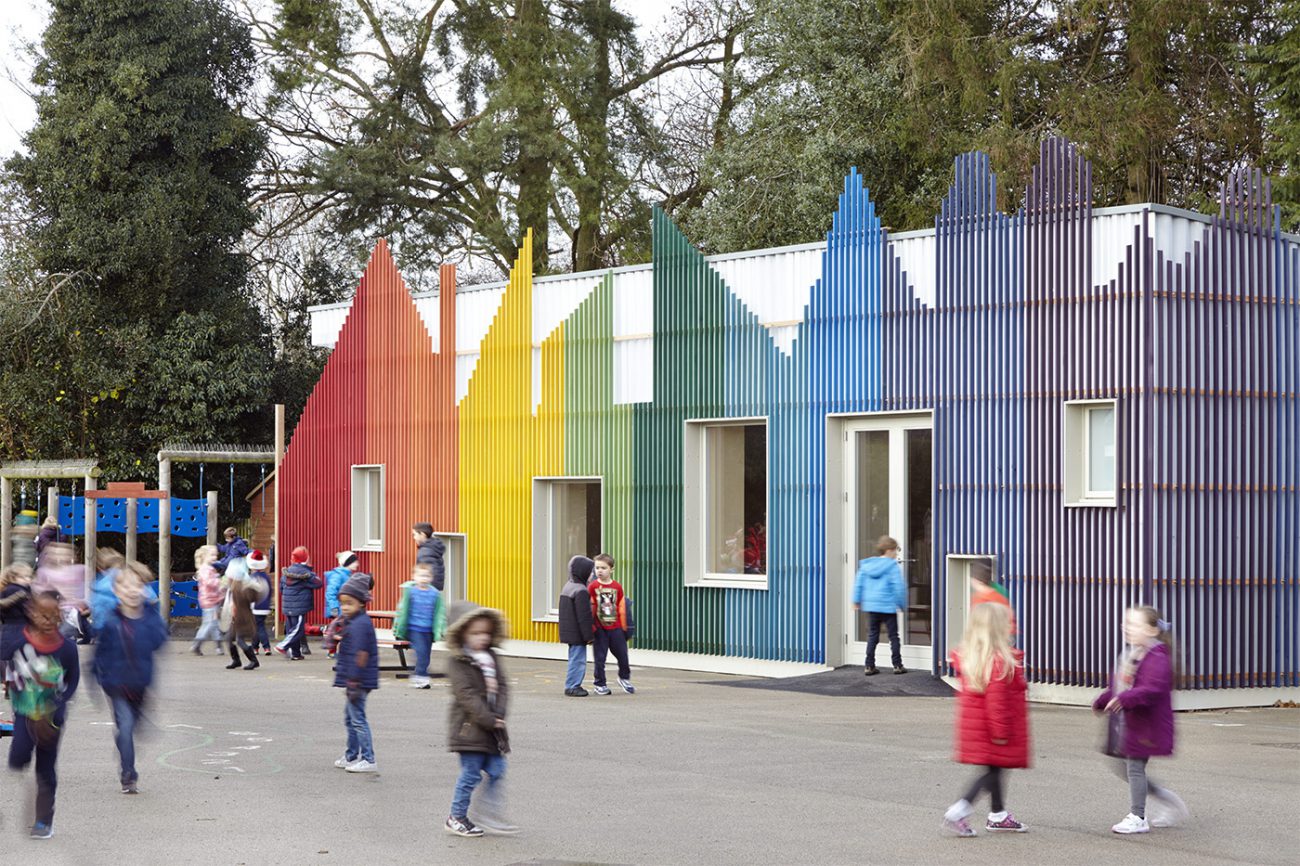 Kindergarten in the English countryside. Project between Design, Novels and Animated Illustrations
A children's school in England was designed by Studio De Rosee Sa to meet the need for a new multifunctional space to accommodate children. The project is based on one of their favorite animated films, Fantastic Mr. Fox.
Fantastic Mr Fox is the inspiration that the English studio De Rosee sa uses to design a "Little Hall Prestwood Infant School" in Buckinghamshire, responding to the need to expand the structure.
The request was to create a new multifunctional space between the two existing buildings, where the canteen, which can accommodate 98 children, could be converted, in the morning to serve as a group space and in the afternoon to accommodate the school clubs.
Despite the many design proposals received from the school, none had the adequate level of thought and design specifically intended for the " little ones ". De Rosee Sa, together with PMR Architects and Alcock Lees Partnership Limited Structural Engineers, propose a fun and playful concept while thinking about the functionality of the school building and keeping the budget to a minimum.
After getting to know the creative nature of the school, which stems from a concept inspired by Roald Dahl, local writer and set designer, the design team decided to continue with the same philosophy and was inspired by an imaginary character, "Fantastic Mr Fox", who at an exact moment describes the aspirations for the ideal dining room: "We will make a small underground village, with streets and houses on each side, separate houses for badgers, moles and rabbits and weasels and foxes. And every day I'll go shopping for you all. And every day we shall eat like kings.
Each class is assigned a title of animal and each window and door is matched with a color, to symbolize its part in this "underground village" that is created inside the wooden structure. To keep costs down, plywood was used indoors, while a screen was created externally using colored stained wood, playfully evoking the existing roofline of the school's main hall, linking the building to its surroundings.
We do not all live everyday life in the same way and so we should pay more attention to the lives of the "little ones", especially in terms of projects. In this case, the team was able to respond perfectly to this need in addition to those related to functionality.
Gallery