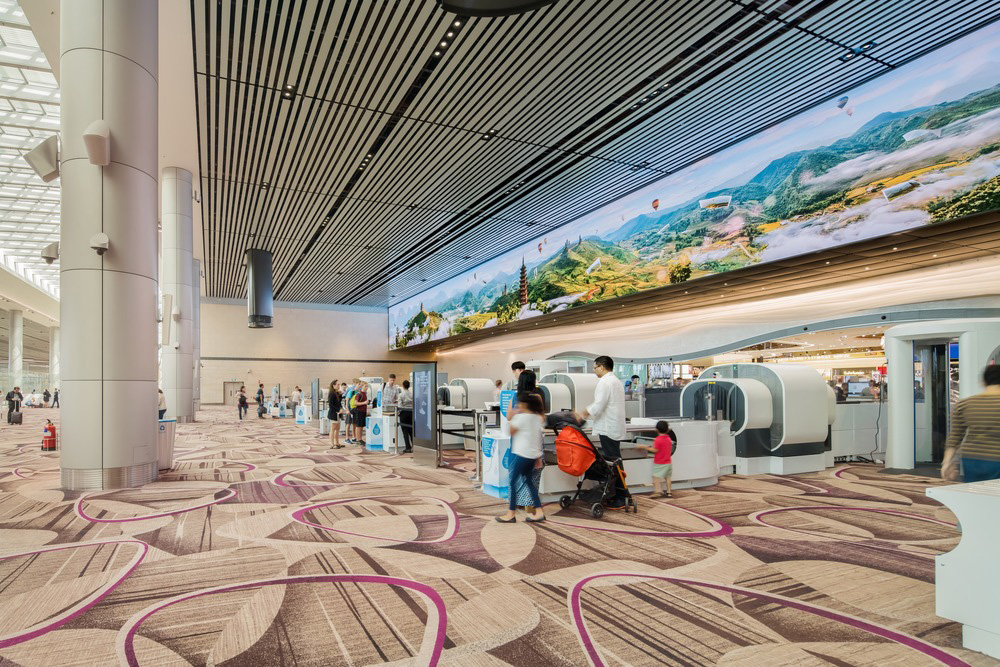 Media Design in Singapore. Changi's Airport between optical illusions and cinematic storytelling
Moment Factory creates an incredible media experience that accompanies the passengers during inland navigation at Singapore's Changi Airport, voted the world's best airport for the sixth consecutive year.
In Singapore, the Canadian studio Moment Factory has created a media entertainment project for Terminal 4 of Changi Airport, voted for the sixth consecutive best airport in the world, which accompanies passengers during their inland navigation. With the creation of two distinct areas that stand out due to their themes and colors, Moment Factory takes entertainment into new and significant directions, with a single aim: to fascinate and create wonders.
From optical illusions to cinematic storytelling, the characteristics of architectural media turn less appreciated traveling moments into surprises of pleasure and discovery. Passing through the security controls, travelers are surrounded by an immersive wall that radically transforms the environment. Picturesque landscapes of high altitudes alternate with virtual sculptures in bas-relief that come to life in a subtle way.
Real and virtual facades of traditional houses create an authentic backdrop for local culture and storytelling in the Heritage Zone. Initially, static, the two LED facades come to life with an engaging neighborhood love story that brings together two Peranakan families.
In this area a huge LED screen offers an incredible panoramic experience, letting travelers start their journey before passing through the security checks. To transport the imagination of viewers to distant locations, Moment Factory has created seven capsules of panoramic content, each with a unique story and setting. The suitcase capsule, for example, offers an imaginative view like that of a child, of what the behind-the-scenes baggage sorting system could look like.
The total screen resolution of the Panorama Area is 10.704 x 768 pixels, making a total pixel space of 8.220.672 pixels. Its physical dimensions are 70 m wide by 5 m high. The LED pitch of the screen is 6 mm (1 pixel every 6 mm).
Using large format LED screens and a trompe-l'oeil approach to content, Moment Factory brings one of these facades to life with a playful and local love story. As visitors shop and have something to eat, their mood is lightened by this touching story of two families reuniting through a wedding.
An extremely user-friendly show control system has been designed that offers flexibility and easy programming of the contents so that local staff can adjust and optimize the programming of the contents in just a few minutes.
The architectural characteristics of the media are rapidly becoming a key ingredient in creating an iconic visual identity and an unforgettable experience that attracts travelers.
Gallery