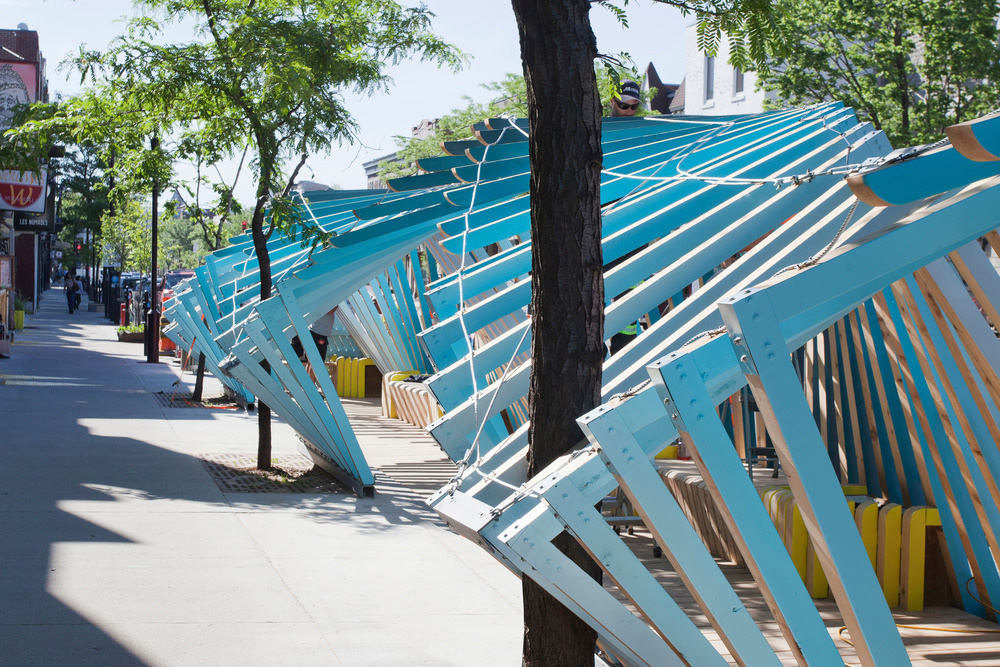 Relaxing in Montreal. Art, games and socializing in St-Denis Street
A refreshing, but also artistic, recreational and social experience realized by Arcadia Studio that respects the main objective of putting people at the centre of the project.
The refreshing spot is a place to stop and rest. Recently developed in Europe, it has been renovated with the introduction of facilities that reduce the air temperature by about 5 degrees on hot summer days. This type of installation is mainly seen on private commercial terraces, but is also beginning to appear in public spaces.
The Mayor of the Plateau-Mont-Royal Borough of Montreal, Mr. Luc Ferrandez, conceived the idea of combining a rest area with a Parklet. They entrusted the project to Anne-Marie Collins, who was responsible for innovative and special projects in the district and who retained the Montreal company Arcadia Studio to design and build this first rest area in Canada.
In the conceptual phase, the designers of Arcadia Studio decided to adopt an artistic approach to the project and to enhance it with a playful component that would generate a reaction effect to the project. Being in the form of a corridor 2.5 metres wide and 22 metres long, the idea of energizing the passage with movement resembling a wave. This is the work of a multidisciplinary team that made it possible to further develop the design
The in-built atomization system consisted of 45 nozzles using 0.022 litres of water per minute. The tank contains 415 litres and provides enough water for 12 hours a day. A rain detector turns the system off and prevents water waste.
La Vague offers a refreshing, but also artistic, playful and social experience. It contributes to greening a commercial artery and bears witness to Arcadia Studio's main mission: to put people at the centre of the urban project.
Gallery