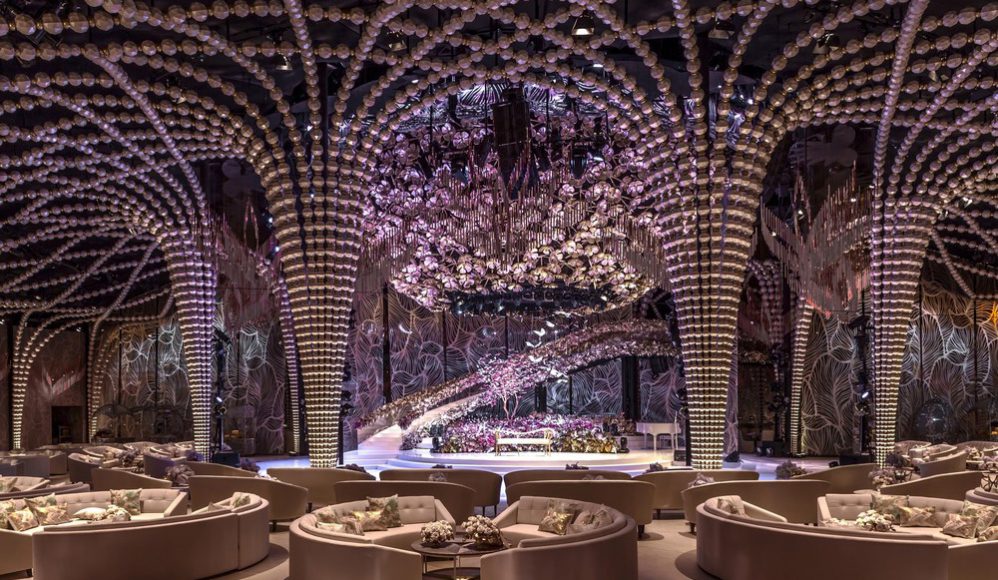 Set Design in Kuwait. Spectacular weddings evoke Broadway's musicals
The atmosphere and energy of a Broadway spectacle is portrayed in the choreography of a private wedding celebration in Kuwait. Designlab Experience provides its spectacular project for the event by selecting expert specialists
The most recent in a series of spectacular events designed and produced by Designlab Experience, which was held in Kuwait at the start of October. The creative starting point for the private wedding celebration was the atmosphere and energy of a Broadway spectacle, in which the guests could enjoy themselves. This resulted in the staging of the event "around", with the kosha (dais) of the bride in the center, doubling as a stage for entertainment, which was seamlessly fitted into the program of the evening.
The Kuwait event was conceived and developed from a fundamental point of view, in this case literally, since the venue was built on an empty plot of sand that had to be leveled before starting any work.
Every element, from the glassworks to the furnishings, fabrics and lighting devices to the chocolates after dinner and dancers' costumes, has been specially designed and custom-made. To meet the artistic vision, Designlab Experience brought together hand-selected specialists from many countries, including lighting designers from the UK, glass artists from the Czech Republic, restaurateurs and floral designers from Australia, construction experts from France and an installation artist from Korea.
The scale of the event required an architecture-based approach that integrates spatial form and social function. First, an outer shell was built, with six-meter-high walls and a central dome that rose to a height of 11 metres at its apex. The 3,650 square meter event space, which is embedded within the building, is built on a circular plane and defined by an architectural structure composed of striped pillars that increase in diameter as they rise, bending outwards to create a network of connections. Each of the grooves is formed by spheres that are faceted to echo the shape of the dome.
The conical pillars have the illusion of enlarging the space and making it more intimate, as well as giving guests a free view of the bride and entertainment from every point of view, encouraging them to move freely and mingled throughout the evening.
The creative team chose a color of peachy pink, creams, smooth greys and touches of semi-opaque gold, all accurately graded from light to darkness. Constantly applied from the largest surfaces to the smallest details, the tone-on-tone palette has created an almost ethereal environment, rich in glamor but subtle enough to enhance, but not obscure the presence of the bride.
Gallery