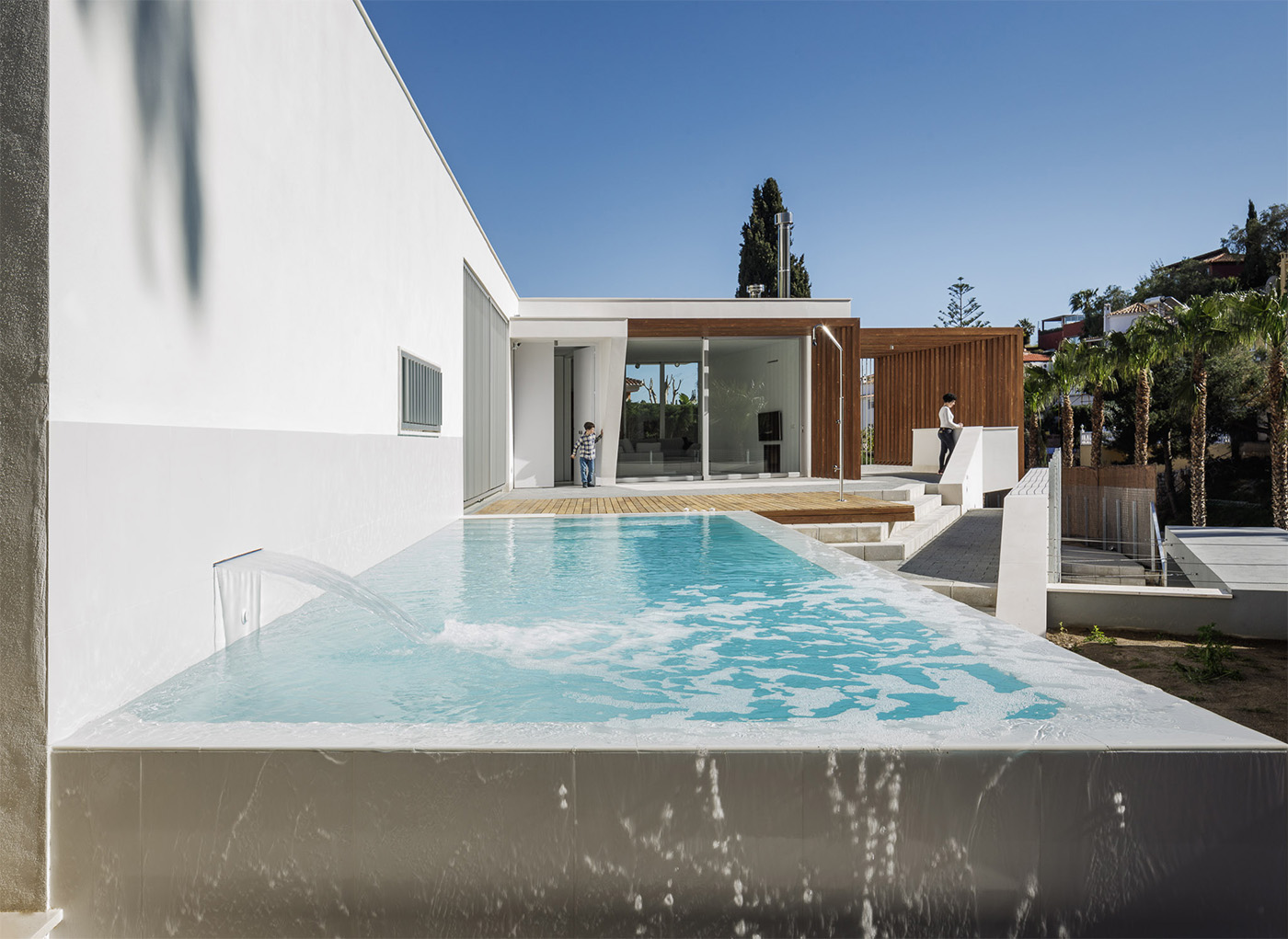 Single family house in Andalusia. Prefabricated modules for a customized project
Starting from prefabricated structural panels, the Spanish studio, Ismo Arquitectura, creates an architecture that uses the slopes of the ground as a scenery, uniting hill and vegetation
From the slopes of the ground, used as a backdrop, the Ismo Arquitectura Spanish Studio creates a single family house beginning with prefabricated structural panels.
Situated on a hill, within an urbanization of secluded single family houses, due to the steep slope of the territory, the house is deprived of privacy. The masonry retaining wall, positioned in the facade, is used to protect the view from the road, while medium-sized trees will serve as the necessary acoustic and visual screen on the second line.
Access from the outside is established through a porch that cuts through the masonry wall and gives way to an internal-external filter, reception porch for the lower level and point of ascent to the upper deck of the house. The intermediate position on the slope allows for the differentiation of various outdoor spaces, which will be necessary for the renewal of indoor air and towards which the views of each room will be turned.
The prefabricated construction shapes the spaces, providing plots and texture. Overall, the horizontal and vertical walls unify the space, merging the exterior and the interior. In this way, the subdivision of the external pavements transforms the habitable platform into a carpet on the area. The modular system that structures the construction, also forms vertical and horizontal insulating panels, which rise on the ventilated floor. The earth roof extends towards the hill and hides the habitability of the house from anywhere higher.
Elements such as prefabricated furniture qualify the interior spaces, bathrooms and bedrooms and extend outdoors, thereby offering continuity in a single project. The staircase, made of cement, provides resistance to construction. The pool, as another element, adapts its dimensions to the structure. In the outer walls, a mesh identical to that used in the prefabricated building, stands out for being used by climbing plants.
The multiple openings of the rooms towards the external spaces, oriented in different ways, allow us to grasp the different shades of natural light that changes the spaces in real time. The house approaches the hill through an outdoor space connected to the sleeping area, where the master bedroom extends to touch the retaining wall, forming part of the patio.
The prefabricated structure determines the spaces, but this does not prevent the realization of a customized project that at the same time perfectly meets the needs dictated by geology and the desire for aesthetics by the client.
Gallery