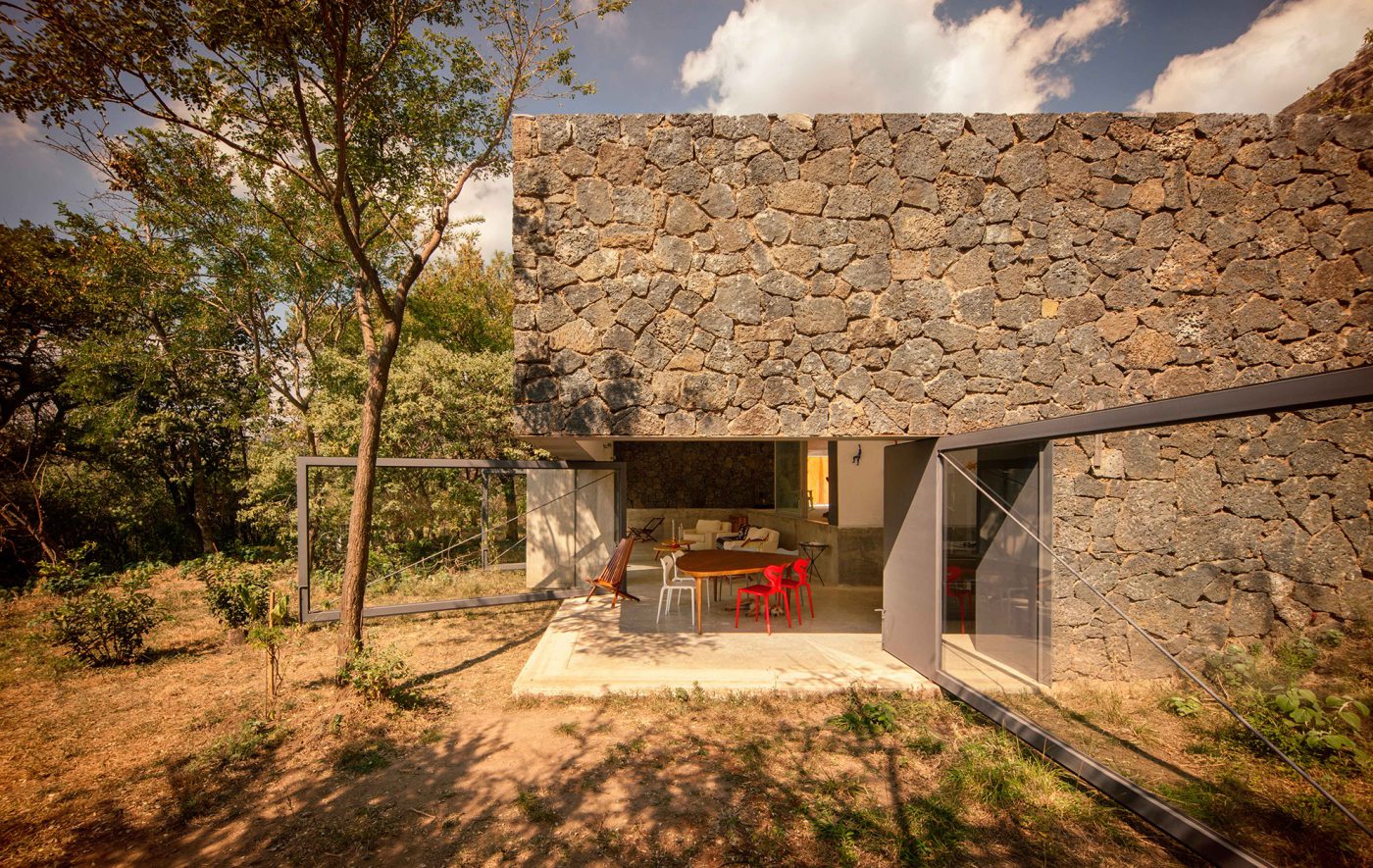 Single Family House in Mexico. Organic Stone Module on a "Lunar" Scenario
Casa Meztitla is a project by Studio Edaa, created to welcome the family, move away from the world and immerse yourself in the flowers of bougainvillea, in a valley on the outskirts of Tepoztlán.
Created to welcome the family and escape from the outside world, Casa Meztitla was designed by the Edaa studio for a couple who wanted a refuge on the outskirts of Tepoztlán
The site was selected, not only for its cost, but also for its extraordinary natural landscape and its proximity to Mount El Tepozteco, a national park. The project was carried out in an area called Meztitla, which in the Nahuatl language means "place near the moon", on the outskirts of Tepoztlán, a city 90 km south of Mexico City.
The layout of the house is divided into several areas, a social area with living room and dining room, an open kitchen and a "porch" overlooking the patio of grass, the only artificially induced nature in the project, designed to become the center of the house. The service area includes a grill, bathrooms, laundry and storage. The area of the rooms is accessible through the external patios including the main ones, on opposite sides, which have a private patio each. The studio, on a second floor, is accessible through the roof of the house terrace and is open on both sides to a couple of outdoor patios.
The central theme of the house is the endless relationship between inside and outside, there is no way to move from one area to another without walking through the outdoor spaces, each area is open to the outside so that you can go out of the house through any door. The house thus functions as a series of rooms connected through different types of outdoor areas. All this was made possible by the mild subtropical climate, used as an excuse not to build a house that closes on itself, but that continually opens to the natural environment.
The selection of materials is simple and logical, both for economic and contextual reasons, being in a subtropical rainforest, they had to be simple to maintain materials, in which their aging was natural and blended with the context. For this reason, the choice of concrete and volcanic rock for the structures, all made lighter because of the complete whiteness both indoors and outdoors. The interior is completed by pine wood and steel doors with tempered glass, accentuated by the use of traditional Mexican furniture such as hammocks and rocking chairs.
Despite its modernity, the house seems to lie naturally in the green landscape, thanks to the use of well-mixed materials and its geometrically organic shape.
Gallery