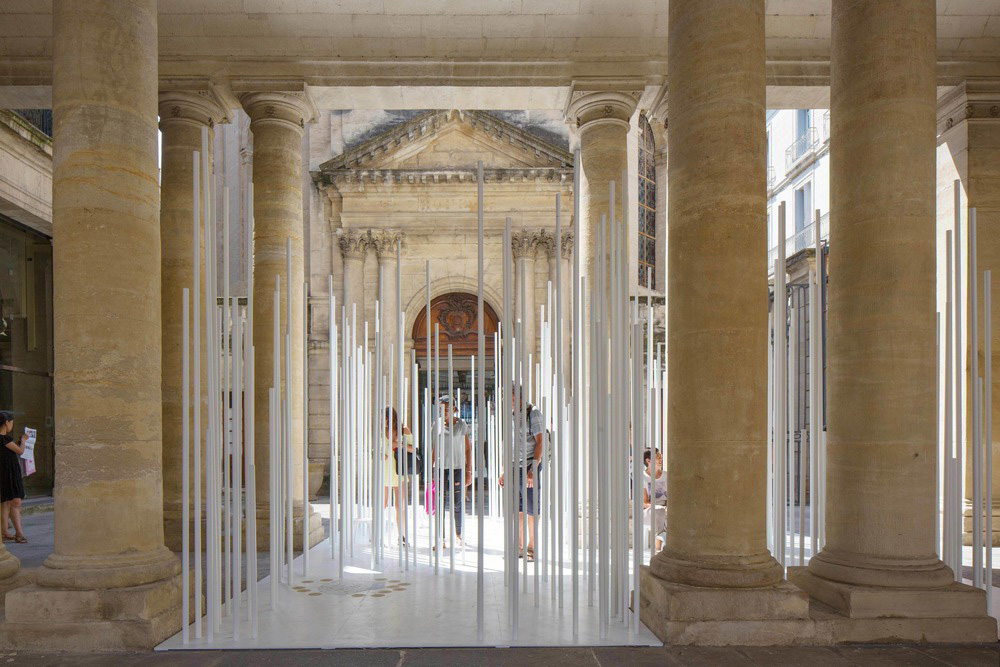 The inaugural pavilion of the French Festival. Between sequences, perceptions and emotions
The edition of the Festival des Architectures Vives, a pavilion is constructed in the courtyard of the Chamber of Commerce and Industry of Montpellier, in the city center by ØNA Architecture
Opened one week before the Festival des Architectures Vives 2017, it is the starting point of the course, but also the place where the public can vote.
Its construction is entrusted to a local team unlike the other installations made by the team the project was selected by a jury after an international competition
The pavilion of the Festival des Architectures Vives 2017 experiments with the spatial connection created by a simple architectural element, the White Column.
Its repetition makes it possible to create a forest of poles, generating a new spatiality and a connection with the existing stone columns.
The idea of the pavilion is to pay homage to these supporting elements that shape the place by creating different sequences and perceptions. The theme of this edition, the emotion arises from the displacement and the way in which the pavilion is placed.
The repetition, positioning and height of the vertical elements make it possible to generate various spatial sensations such as clamping, opening or even the request
Vertical and slender work, the pavilion aims to pay homage to the spatial composition of the historic courtyard through the use of steel material.
Gallery