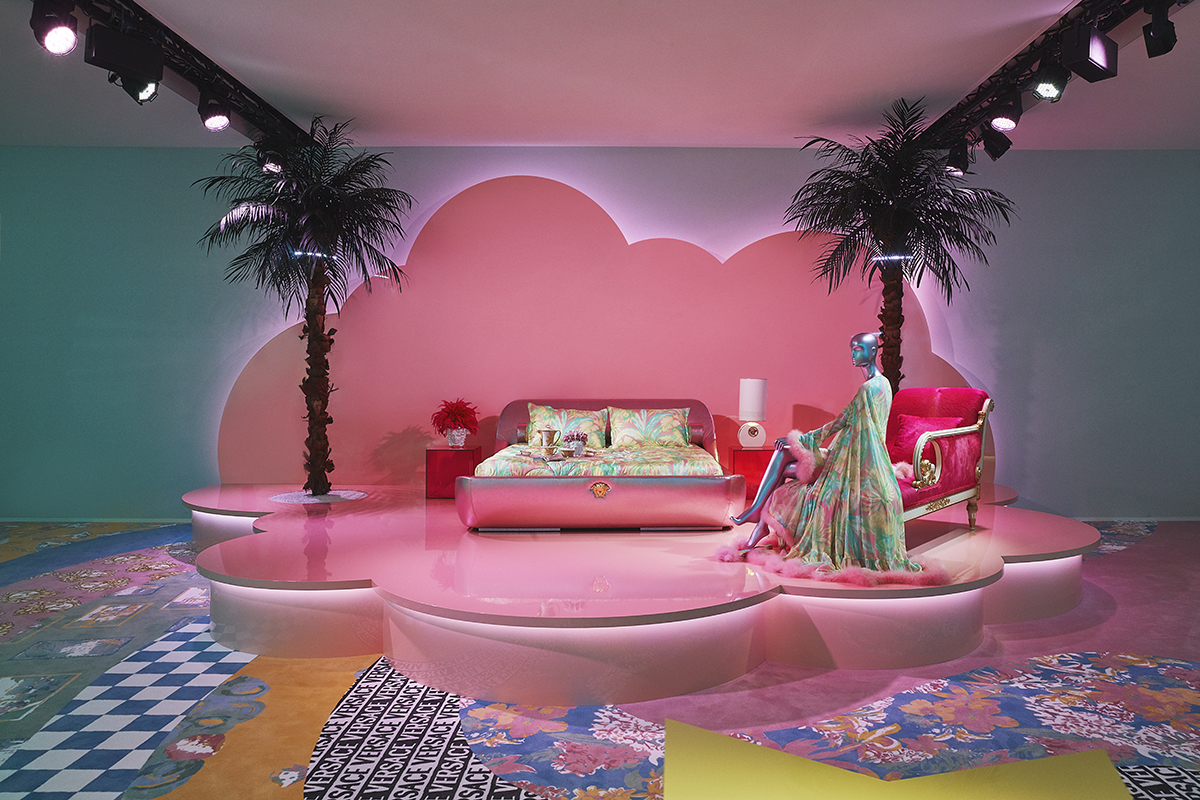 Versace House in Milan. A contemporary vision with bright colours for the Home collection
On the occasion of Fuorisalone 2019, Versace Home returns home to the complex of buildings in Via Gesù. And to present the new Versace Home Collection, Donatella Versace invites the Designer Sasha Bikoff to create the installation and the exhibition gallery.
The neoclassical buildings, dating back to 1782, stand on the site of a former Franciscan convent. The 18th century construction that you see today includes a large courtyard, which became an important factor in attracting the Versace family to buy it in 1982. For a period of four years, the family bought all the annexed buildings, with the intention of converting them into a headquarters for the home. Inspired by the traditions of couture, Gianni Versace decided to merge the design studio, the workshop and his residence.
Donatella Versace invited Sasha Bikoff and Andy Dixon to join her in presenting the new Versace Home Collection. Designed by Sasha Bikoff, the rug is a fusion of Versace aesthetics, past and present, created and inspired by legendary Versace moments and motifs. Her aim was to incorporate the codes of the home, incorporating an unexpected interpretation of images and colours.
The rug design features the iconic Versace symbols, and blends them with historic and seasonal prints. Floral elements contrast with graphic chessboards and leopard animal motifs. The carpet is strongly influenced by the Art Deco revival of the 1980s, but is reinvented in a contemporary style. Integrated with this and conducted by Bikoff are the works of Andy Dixon, including his nine by seven metre by nine giant shirt hanging prominently in the entrance.
For the occasion, the designer also revisits the Versace Home Boutique in Via Borgospesso, which is an extension of the previous exhibition where the atmosphere continued to be dominated by brightly coloured icons of Art Deco inspiration, as is evident throughout the new Home Collection on display, along with pastel palm sculptures. When she created this space, her desire was to share her perception of Versace and the ways it inspired her.
Gallery