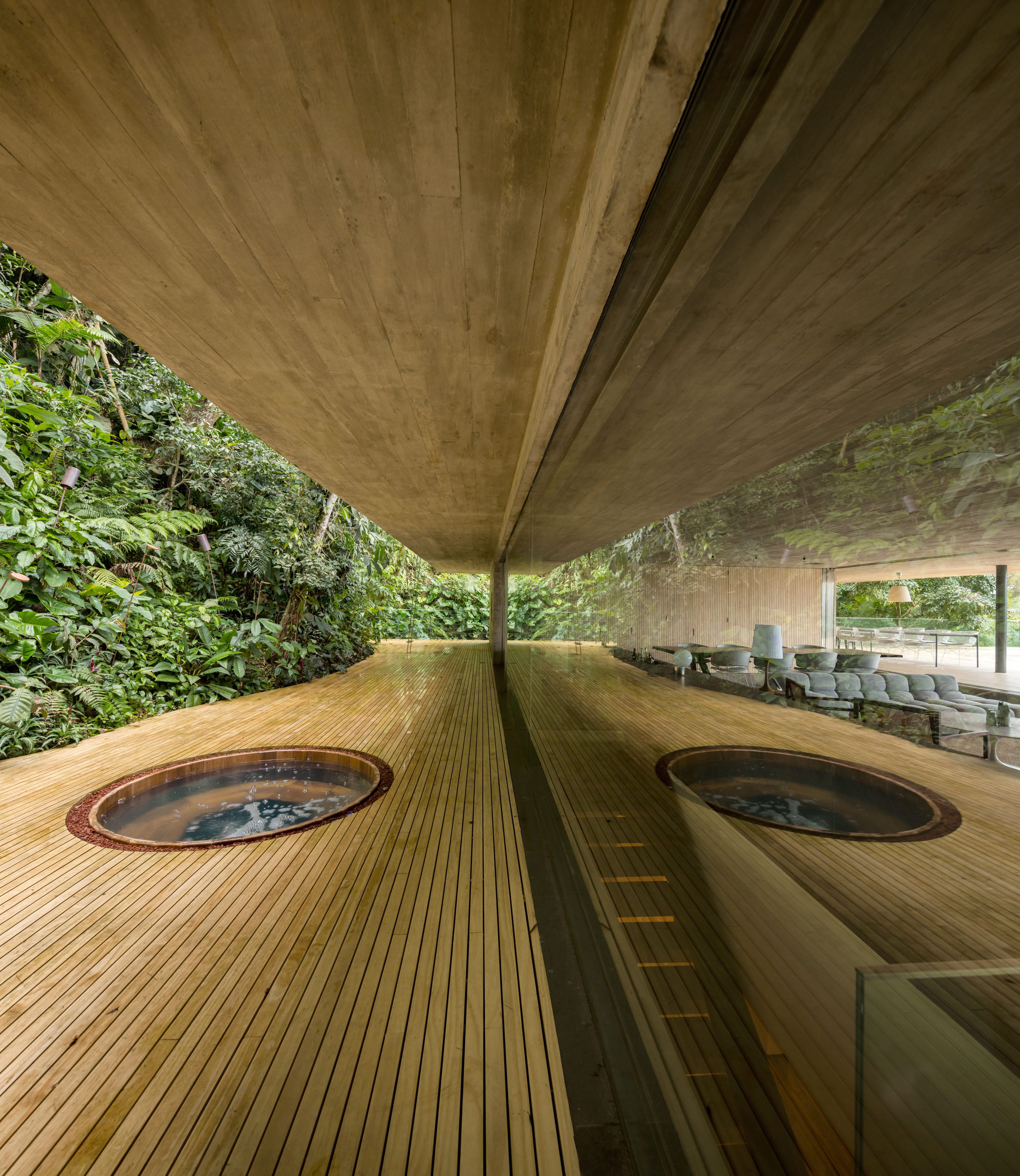 Villa in the forests of San Paolo. Architecture as a connection with nature
Located in the rainforest, the project of Studiomk27 aimed to insert the house in a mountainous profile, with the aim of creating a connection between architecture and nature, favouring the view towards the ocean and the incidence of sunlight.
The main volume of the house is elevated from the ground and seems to be almost projected out of the mountain. The contact elements between the slope and the building have been designed to respect the existing terrain, thus creating an organic interaction between nature and the architectural elements.
The three floors of the "Jungle House" create a distinct functional division: the ground floor houses a large covered wooden bridge, connected to a small children's room; on the first floor there are six bedrooms and a TV room; the third and last floor is the social area of the house, where there is also a swimming pool, living room and kitchen.
The architecture has established an inverted vertical organization with respect to the traditional model. The bridge is on the ground floor, protected by the projection of the house, which forms a shaded shelter. The stairs start from the wooden bridge on the ground floor to access the volume of the house that " divides" an intermediate space, surrounded by concrete and which houses a light work by the artist Olafur Eliasson.
When you are at home, the relationship with the surrounding vegetation occurs not only through the view but also through the plants surrounding the wooden bridges. On the ground floor, you can walk among the trees; on the first floor, light filters in through the treetops; and on the roof, there is vegetation with the ocean in the background.
In the Jungle House, the project is defined by a transverse cut that made it possible to position the pool into a semi-integrated slab: overflowing and with the edge raised in relation to the height of the deck, the view and the landscape serve as an extension of the waterline of the pool.
Gallery