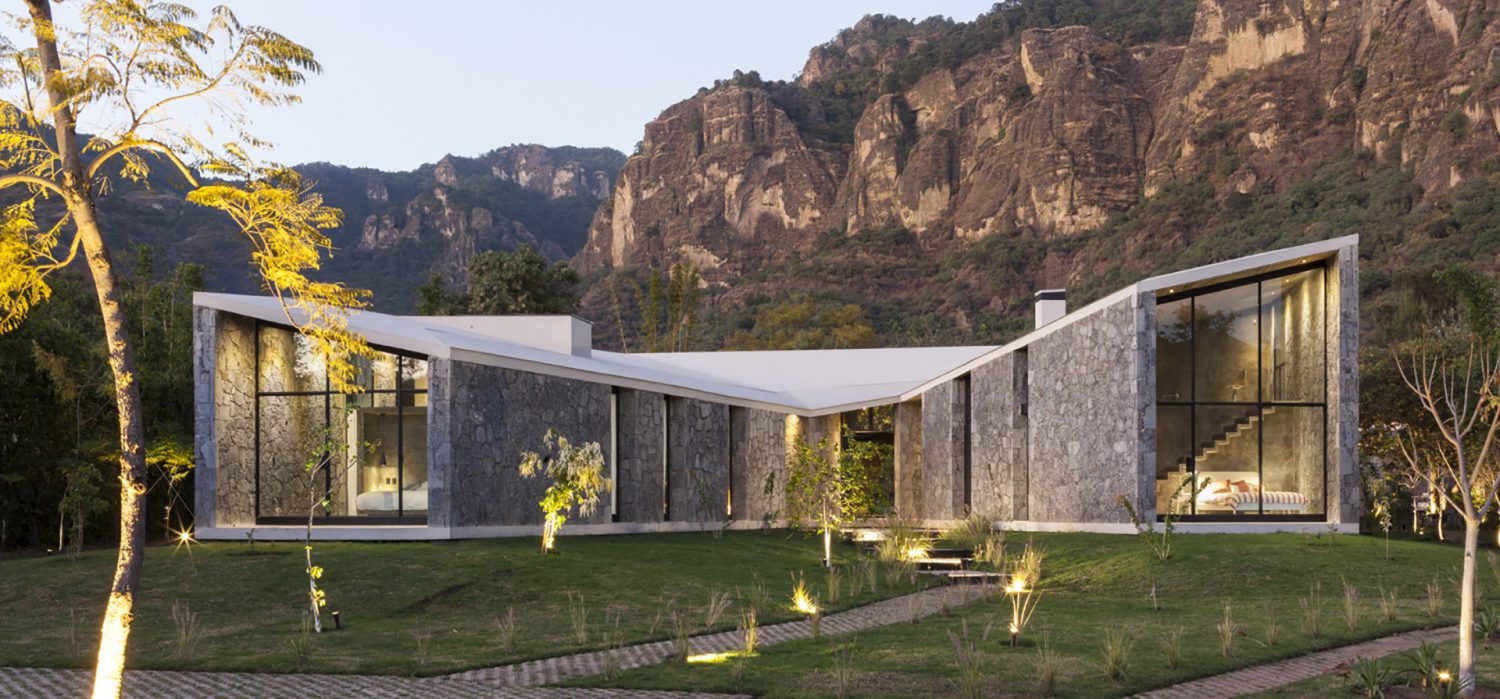 Villa on the mountains in Mexico. Between stones and vegetation, an Architecture that blurs between inside and outside
Situated on the rocky mountains on the outskirts of Tepoztlán, this architecture, designed by Cadaval & Solà-Morales studio, reinterprets the hardness of stone, making the space comfortable thanks to the interpenetration of nature.
An enveloping form and interpenetration of nature, through large openings, define the design of this villa conceived by the Mexican Studio Cadaval & Solà-Morales, where the hardness of the stone of the rocky mountains is redesigned and modeled.
The layout of the house stems from the natural request to construct a building using stone as the basic material. The decision does not necessarily address the aesthetic reasons other than the fact that the material is commonly used in the area as well as its low level of maintenance and cost. This " necessity " of the project is accepted as a structural as well as a typological and aesthetic challenge.
La Casa Ma is located on the outskirts of Tepoztlán, a small picturesque town of pre-Hispanic origin, which later became a colonial centre. Located about 60 km from Mexico City, Tepoztlan is characterized by mild sunny and temperate days throughout the year and lush nature. Water is the main protagonist in the rainy season when vegetation shows the intense vitality of nature.
The project was conceived from the search for a bright, spacious and comfortable space, built with a priori hard and uncomfortable material, such as stone. Overlooking two adjacent mountain ranges on one side and neighbors on the other, the house is a volumetric exercise: opening the view and the main areas to the mountains and minimizing the openings at the sides. This is why a central, open courtyard is designated as the slot that marks the access to the house.
It is not, however, a house with a patio. Built with a central courtyard around which all the circulation and connections are made, its functioning is achieved through the external perimeter; the house is a sequence of spaces with different uses, which defines the limit of a regular square. A succession of open and closed spaces is superimposed on the continuity of this regular and perimeter circulation; the external spaces, the covered courtyards, intersect the volume diagonally and disrupt the rigidity of the perimeter operation.
The end can only be discerned from the outside, the spaces that follow one another and overlap without closing, always facing the natural space outside, give a sense of freedom that stands in contrast to the rigid form and hard stone.
Gallery