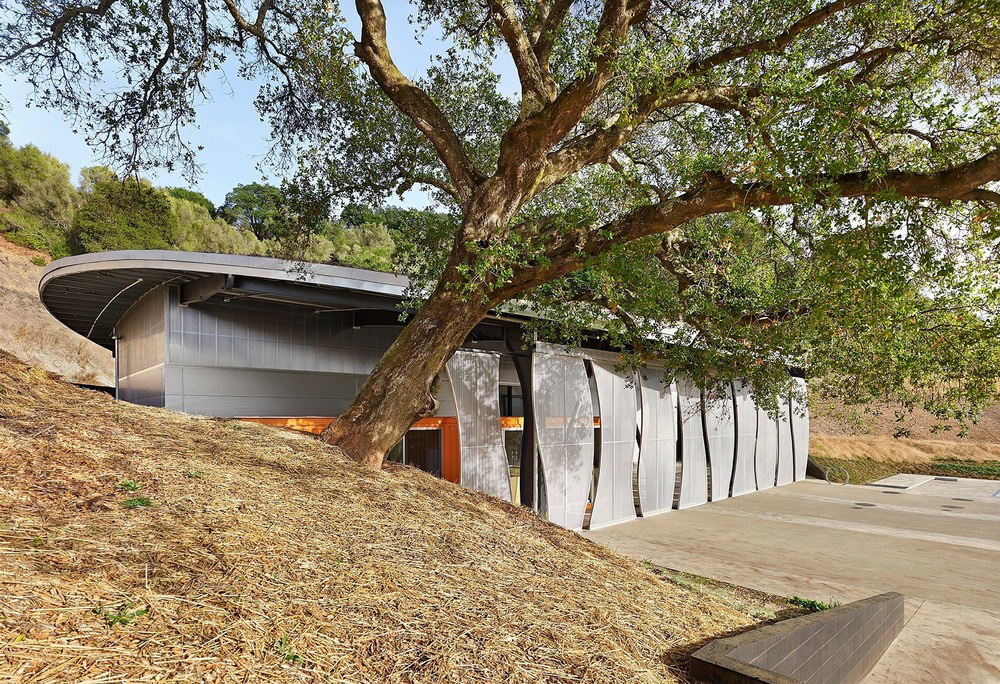 Winery in California. Curved forms for the Industrial Building
The LEED Gold-certified design of Signum Architecture La Odette Estate Winery in Napa Valley was selected by the American Architecture Prize 2017 as the winner of the Industrial Building category.
The environmental design of Odette Estate Winery expresses the owner's commitment to sustainable agriculture and wine production. Juancarlos Fernandez, partner of Signum Architecture based in Napa Valley, designed the Odette Estate Winery to reflect the elegance of the wines they create there.
Nestled in the eastern hills of the valley, the "living" roof of the building seems to have been raised from the earth. At the front of the building, sliding screens of perforated aluminium in high and voluptuous shapes cover the crushing area, covered by the cellar and the outdoor workspace. Behind these screens, three re-adapted shipping containers serve as a comfortable and sophisticated laboratory for the cellar and office space.
The efficient design of energy throughout the facility, the on-site renewable energy created by solar panels and the conscientious use of building materials were some of the main factors in the project's LEED Gold certification. Fernandez was very pleased to design this project for the American Architecture Prize and is honoured to have it selected as one of the outstanding works.
The American Architecture Prize celebrates creativity and innovation in architectural design, landscape architecture and interior design, meeting the demands of architects from around the world.
Gallery