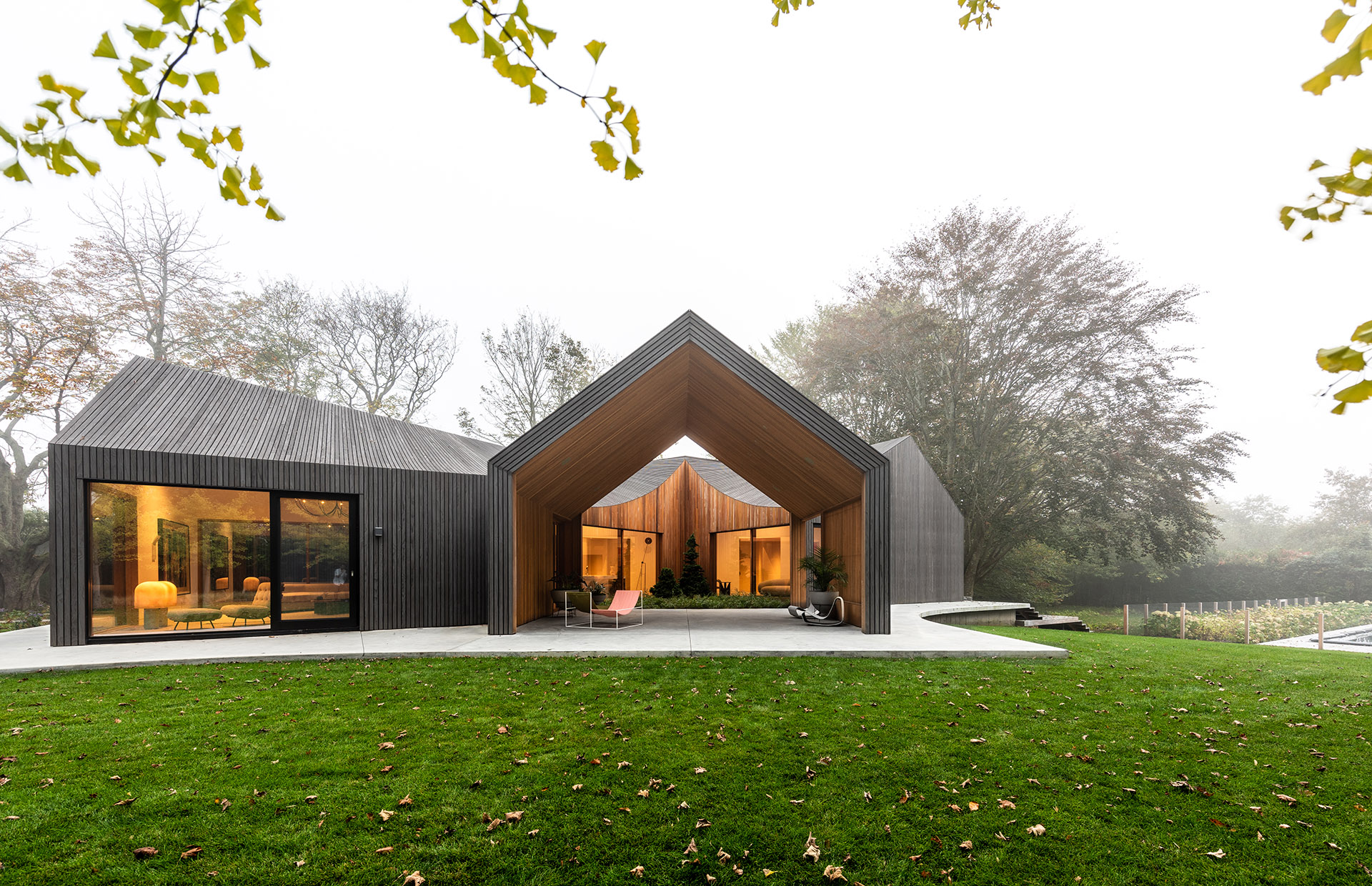 Rigid geometry and wavy lines fused in the architecture of Six Square House
Architecture firm Young Projects has completed Six Square House, a new 3,500 square feet residence situated on a green two-acre site in Bridgehampton, New York
Six Square House is composed of six 24'X24' pitched modules, arranged to align the roof ridges and create continuity from one unit to the next. In contrast, the roof eaves of each unit flow up and down, resulting in a variety of undulating surfaces and unexpected sight lines through the exterior and interior of the house. The house is clad in dark gray, Accoya wood slats, the striations of which emphasize the dynamic edges of the roof and arches
The Six Square House is part of a property that includes a historic1850s farmhouse, which sits at the front of the lot, and a newly constructed swimming pool. Located in the center of the lot, Six Square House becomes the core of the property and the client's primary residence, making the farmhouse the guest residence.
Young Projects designs Six Square House as a contemporary counterpart to the existing farmhouse. The firm aims to create a new residence that subtly alludes to Long Island's historic architecture, radically rethinking a traditional barn typology as an elegant and innovative home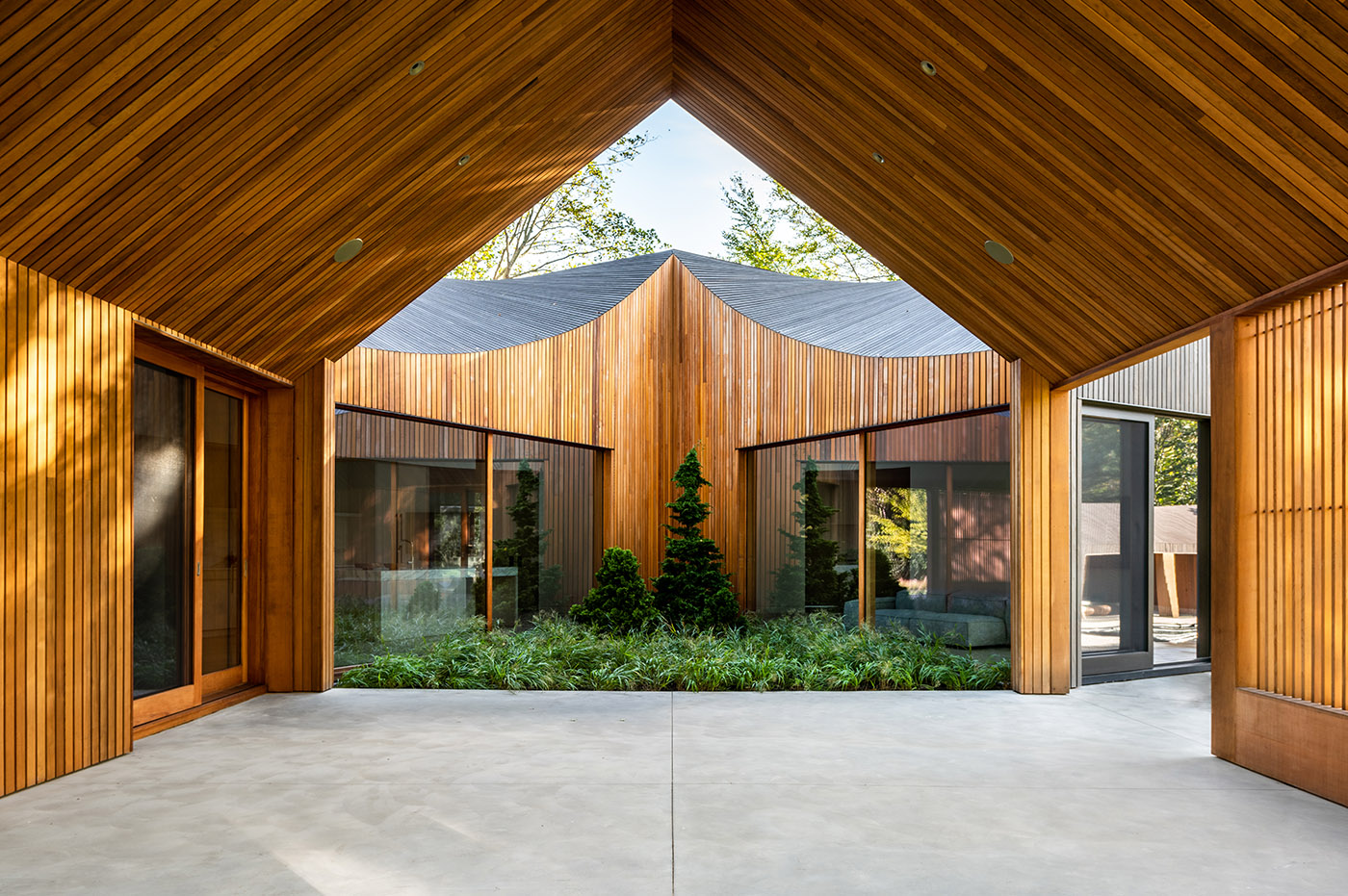 The roof and exterior walls are constructed of the same material: charred and weathered Accoya wood and Western Red cedar. These are durable, low-maintenance engineered woods that play off the historic cedar facade of the farmhouse, while reinterpreting the materials in a very new and contemporary way.
In terms of floor plan, the six modules that make up Six Square House are arranged around a triangular central courtyard. For Young Projects, this arrangement offered a compelling visual balance between symmetry and asymmetry, depending on the vantage point from inside the house. The hybrid roofscape, combining aligned ridges and curved eaves, enhances this duality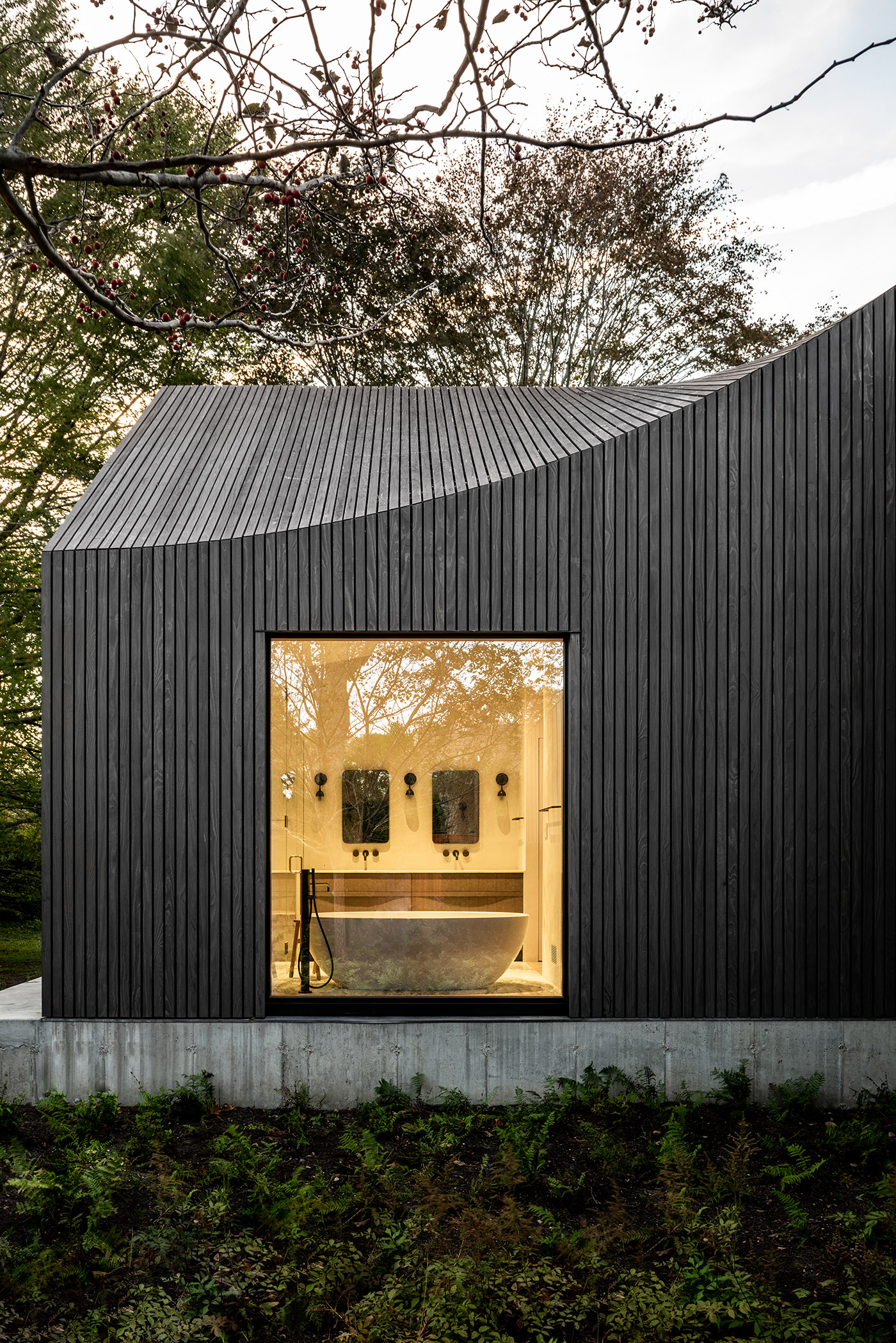 Throughout the house, the material selections and corresponding color palette follow a neutral, and organic spectrum, encoded by the use of a given space. Black and platinum gray materials define the home's exterior: polished concrete patios and a charred Accoya facade and roof.
"The interior palette was chosen to have a general lightness and warmth that is suited for a summer home in the Hamptons: soft, light wood trim, warm white walls and stone countertops," says Marciniak. "Materials are generally composed in a way that acts as structural variations on a narrow color palette rather than high-contrast or high-volume materials."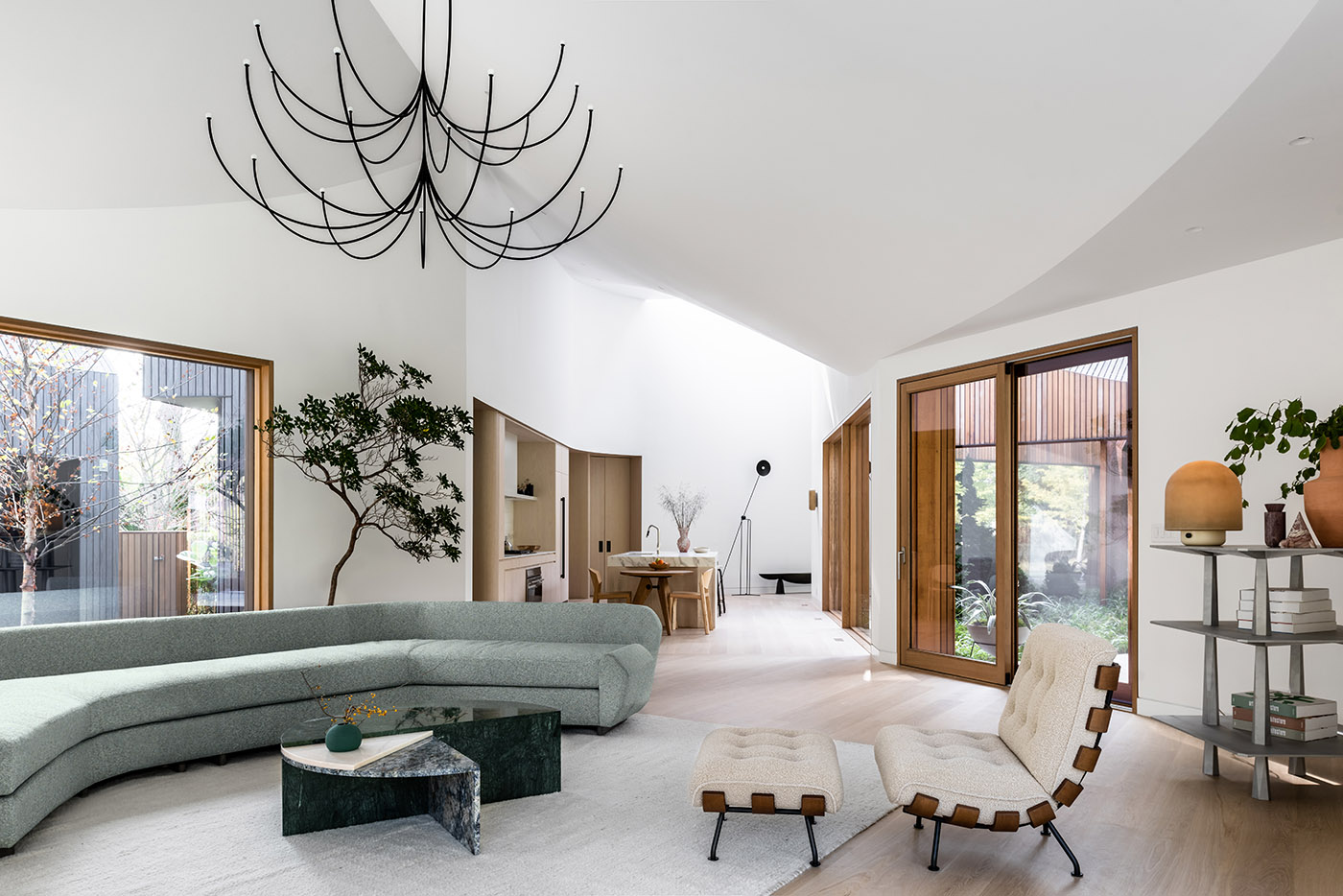 Overall, Six Square House has struck an elegant and innovative balance between the interior and exterior. "On the one hand, the design of the house is governed by its own geometric logic," Young explains. "On the other, the design references and connects to the entire site."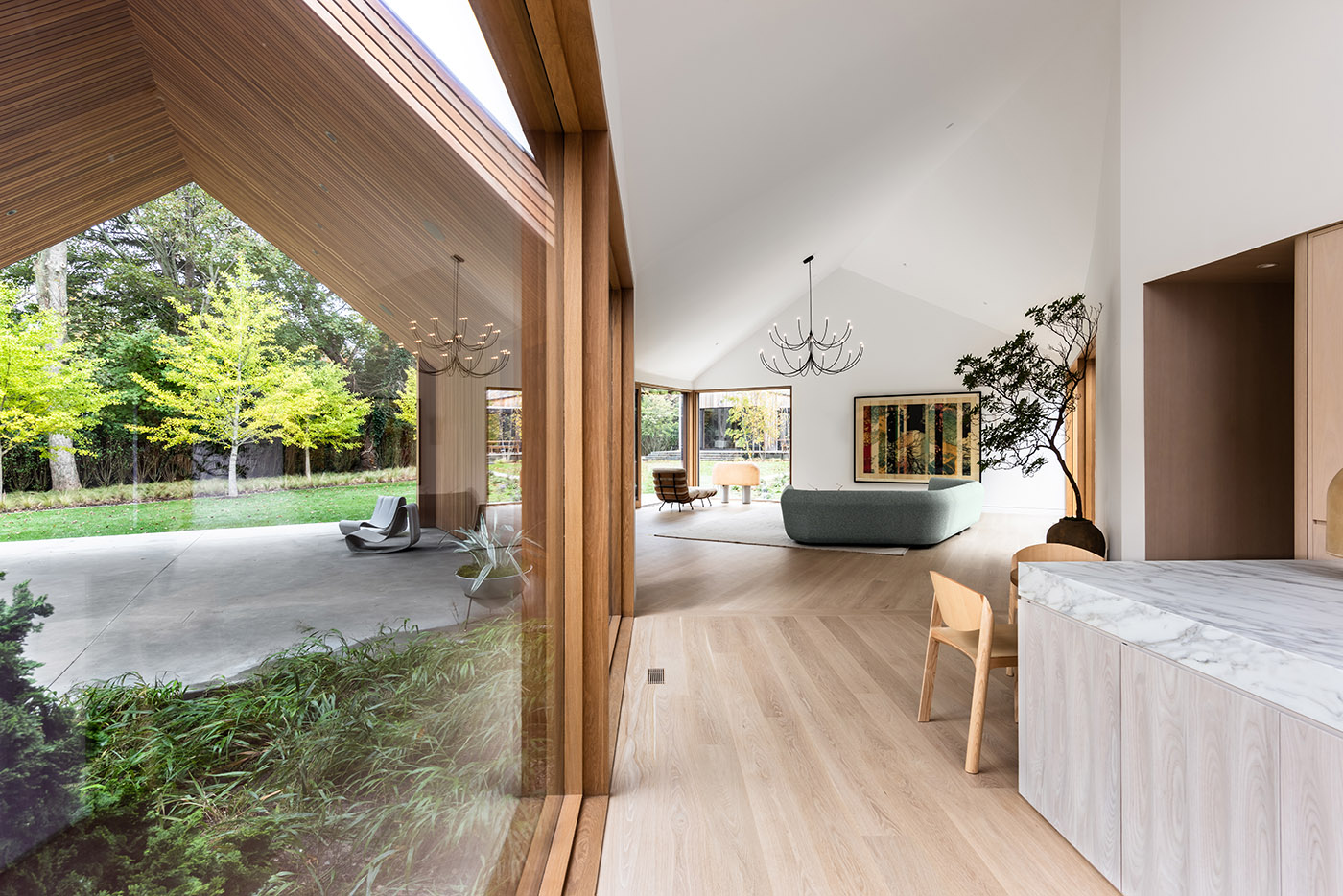 Gallery