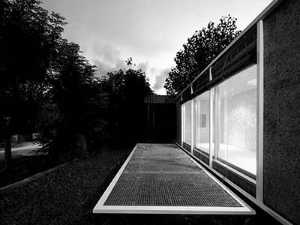 ÀGORA Arquitectura
Alfons XII 61, ground floor, 2nd door, Barcelona

ÁGORA – from the Greek ἀγορά-, is the term for which in Ancient Greece it was known the meeting place par excellence of the cities. Since 2014 also a space located in Barcelona where architects Joan Casals Pañella and Jose Luis Cisneros Bardolet meet to meditate together about the architecture project. A profession exercice where resolve the difficult insertion of architecture with its social and physical context becomes a common principle.
Jose Luis Cisneros Bardolet (Barcelona, 1982)
Architect in October 2005 by the School of Architecture of the International University of Catalonia (UIC ESARQ) and Master in Theory and Practice of Architecture (MTTPA) by the school of Architecture of Barcelona of the Polytechnic University of Catalonia (UPC ETSAB) in 2011. Has worked with architect Josep Lluís Mateo in his office MAP Architects (2005-2008).
Joan Casals Pañella (Barcelona, 1982)
Architect in October 2005 by the ESARQ UIC, MTPPA by the ETSAB UPC in July 2010 and PhD in January 2020 by the DPA of the ETSAB UPC with the thesis: "Poetics in contemporary Catalan architecture: architecture as landscape, landscape as architecture". Has obtained the general grant of the Education Ministry GRAL09, the research grant FI-DGR 2011 and the support university teachers grant AAD 2013 by AGAUR. Has worked with architects Fermín Vázquez, Juan Trias de Bes and Alfredo Arribas. Has been part of the jury of various national and international architecture competitions. Has been architectural projects professor at the ETSAB UPC in the Cátedra Blanca of Carlos Ferrater between 2011-14. Since 2020 is associate professor of the DPA of the ETSAB UPC acredited by AQU as a lecturer professor.