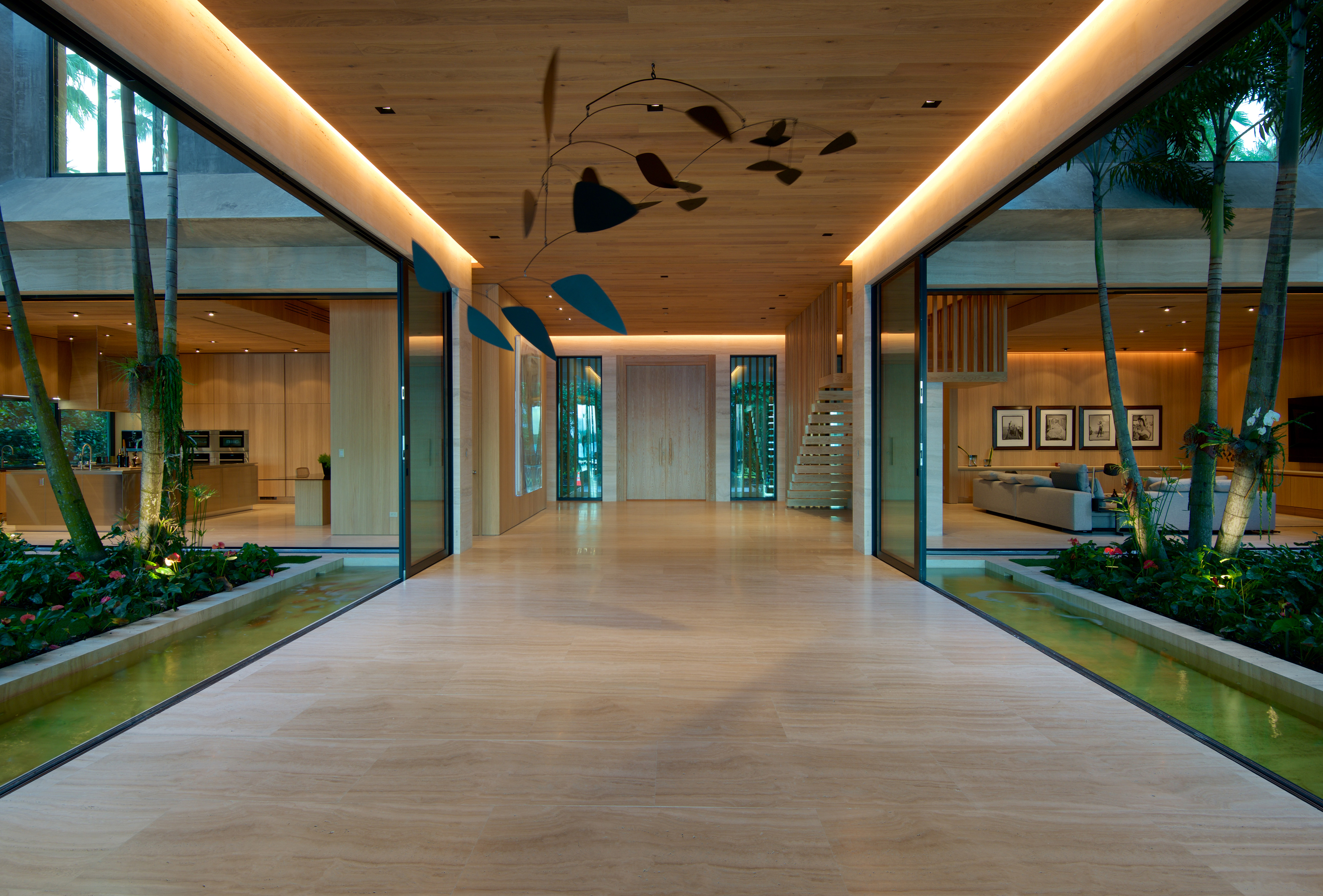 A villa between stone and nature in Miami. The volumes open onto the courtyards like continuous spaces
A rooftop pool and tropical nature in the courtyards. The two-storey villa, designed by Oppenheim Architects, overlooks the sea with its glass windows and travertine cladding, creating a continuous interior and exterior
The detached villa, located in the most exclusive residential community of Bal Harbou is an elegant two-storey building with a rooftop swimming pool, designed to enjoy a luxuriant landscape and spectacular seafront views. Two large courtyards divide the volume creating interior and exterior spaces in constant interaction.
The house consists of two volumes that create different sequences. The basic ones, covered with stone, are placed under the concrete volumes. These detailed volumes preserve the purity of the elemental forms through a limited materiality of concrete, travertine and wood.
The use of travertine reinforces the interaction with the landscape where inside and outside become indistinguishable. The common areas, dining room, entertainment and services have instant connections to the inner courtyards through sliding glass openings that disappear into the travertine clad walls, maintaining constant visibility over the bay. The exterior covered deck and pool are also finished with travertine, maintaining a fluid connection that culminates with the glass walls of the pool.
The second floor is structured around a large playroom flooded with natural light through four large skylights. The six bedrooms on both sides all have access to panoramic terraces. The master bedroom, accessible via a private anteroom, extends across the entire width of the house with a continuous balcony towards the bay.
Gallery