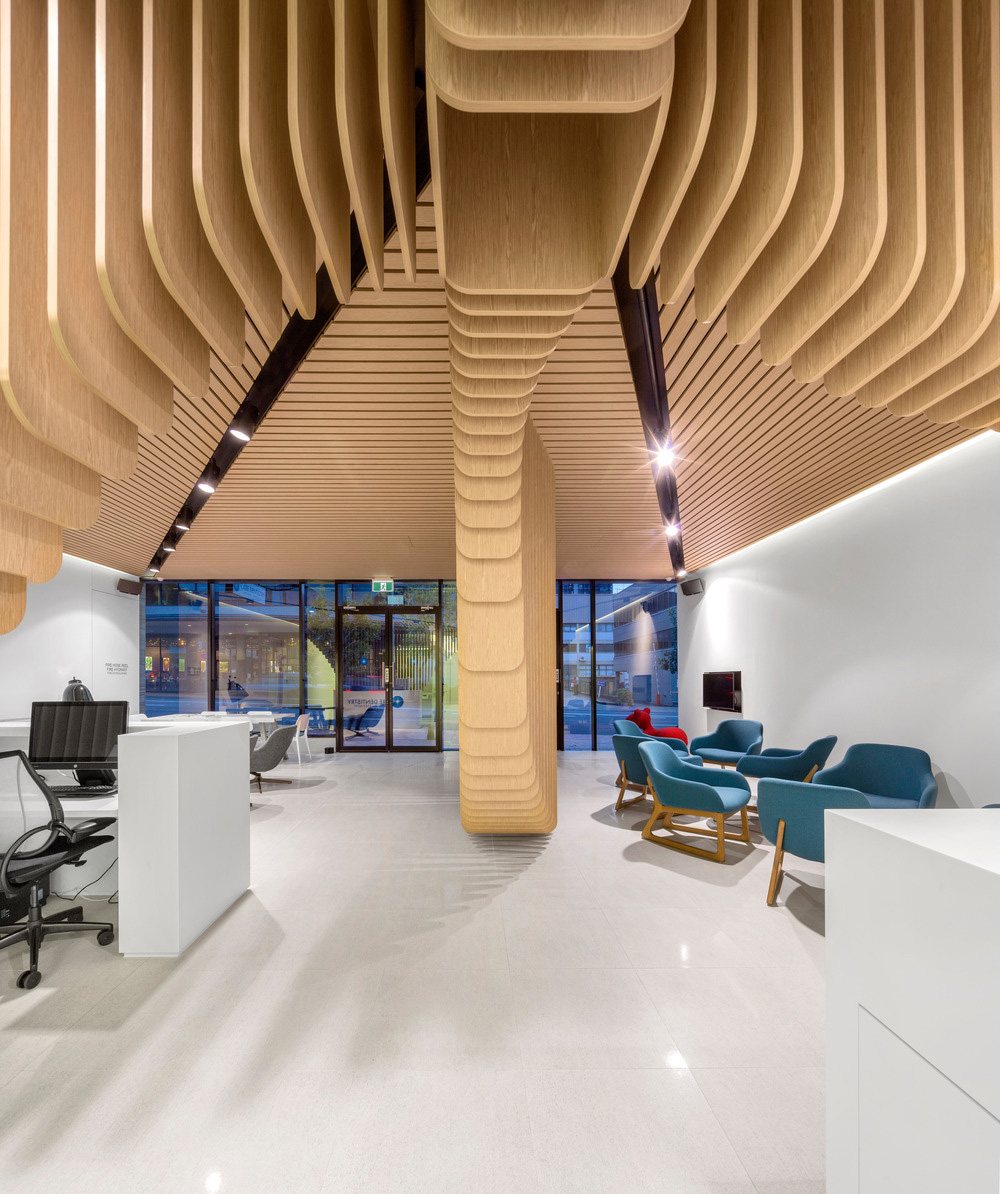 Interior design for the Dental Clinic in Sydney. The wooden element combines aesthetics and functionality
The interior design created by the Portuguese studio Pedra Silva Arquitectos for a major dental clinic in Sydney solves problems and operational needs through the functional application of the aesthetic sense of the elements
An important dental clinic in Sydney invited the Portuguese studio Pedra Silva Arquitectos to create an interior design that combines aesthetic sense and practicality in solving the various problems of space management.
The client requested the creation of two reception areas with two entrances that could be used separately but without compromising the sense of space and the relationship with people. In the same space a structural column seems to impose itself in all attempts to be integrated into the project. The solution seems to be to remove the column itself.
A wooden sculptural element is created to act as a filter between the two reception areas. This element has a dual function: to permit a partial view between the spaces, separating them and making the bulky concrete column disappear. Built with suspended wooden planks that initially start narrow and then widen and swallow the existing column, this element is the answer to all initial demands and functions as a space generator, influencing the ceiling and other elements.
The public accesses the clinic from Archer Street, which leads to the reception and the appropriate waiting area. The waiting room consists of two rooms, one for general dentistry and the other for the dental clinic where important operations are carried out.
The rest of the clinic's space is organized around a central corridor that starts at the reception connecting all the clinic's spaces, from the examination areas to the doctor's office, from the patient areas to the technical spaces. At the centre of this corridor is a transparent glass core that allows natural light to penetrate into the space.
At the end of the clinic, there is the main doctor's office where the most complex operations are carried out. As a national reference in the dental field, the client requires that this space be designed in such a way as to allow other professionals to observe and share their experience and knowledge. This was achieved by placing an observation room on a higher level with a large window to the surgical intervention connected to a camera that allows surgeons to observe the procedures on a large screen.
A project that solves the dynamism of spaces through the application of elements and solutions that perfectly represent the important specialist level of the clinic that welcomes patients and colleagues in an elegant and comfortable environment at the same time.
Gallery