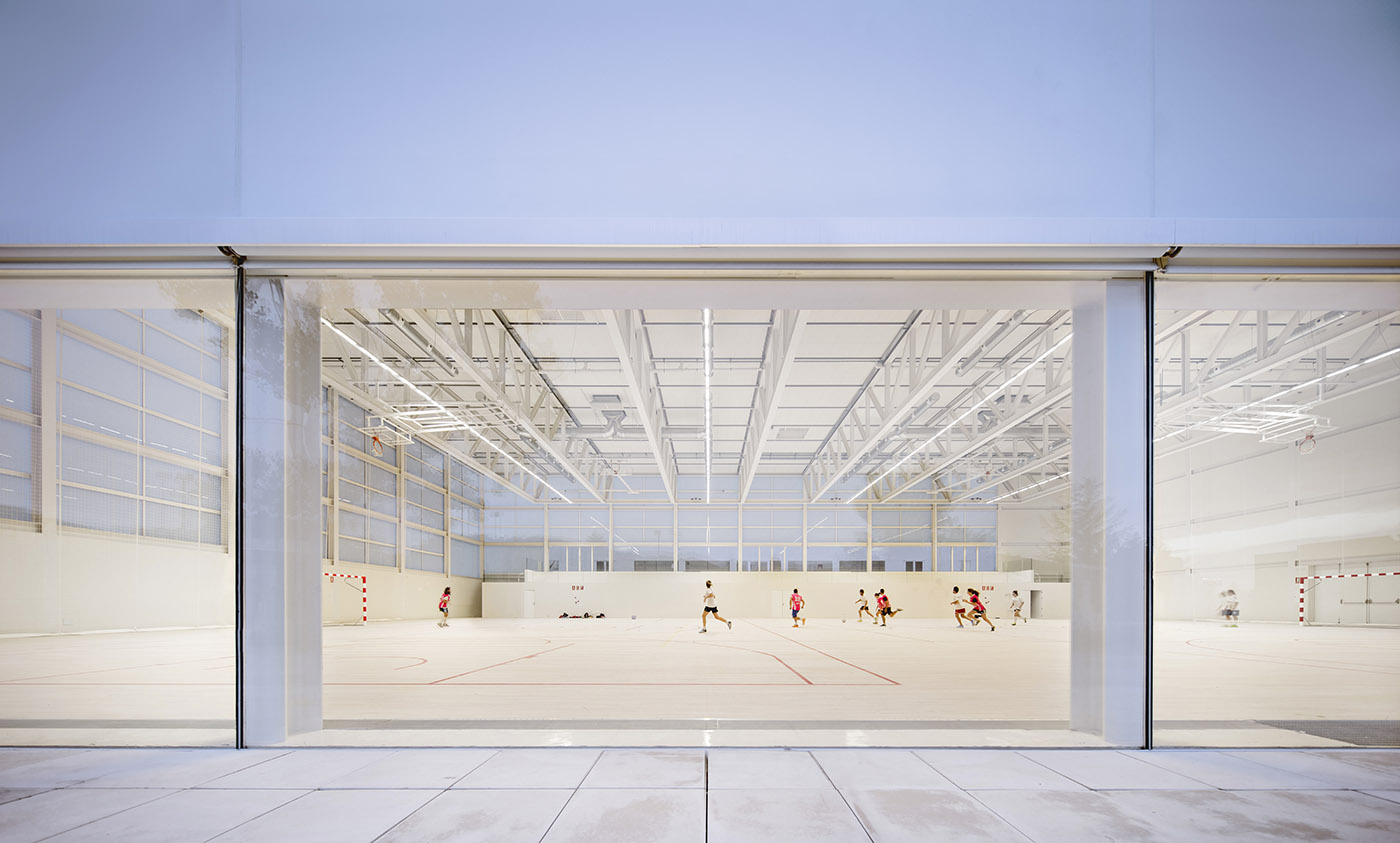 Madrid's sports hall. A space of great light and breadth
The sports hall at Francisco de Vitoria University (UFV) in Pozuelo, Madrid is a big, diaphanous, brightly lit space with plenty of breadth. This sober project is architecturally in harmony with the buildings around it. That is much more than a place for practicing sports designed, developed and built to give the university a new multi-purpose facility.
Located in the Madrid metropolitan area, on the Francisco de Vitoria University campus, the sports centre and conference hall is a lightweight element made of glass and glass fibre-reinforced concrete panels, aligned with the architectural vision of the other university buildings to form a single whole.
The structure of the sports centre is made of steel, with a grid of pillars and beams on the façade and trusses compensating its great roof span. The rest of the building is made of reinforced concrete, characterised by big corner beams over the swimming pool area which serve as the base for the supports of the conference hall. The spaces are distributed over two clean, well-defined volumes joined by a construction whose roof becomes an outdoor courtyard connecting the two buildings
The building, volumetrically adapted to suit the maximum heights and alignments of the campus, clearly stands out from the staff area. The volumes and materials of the façade also clearly distinguish between the sports facility and educational buildings, measuring approximately 50 x 60 metres and 12 metres high, with the same general lines as all the blocks on the campus
The sports centre, which contains sports grounds, a gym, a pool, a physiotherapy centre, and more, also becomes a multifunctional space including meeting rooms and spaces for hosting university events, offering a complete facility where university students can perform sports and recreational activities right on campus
The design of the sports centre also takes orientation into account, choosing the materials used to build the structure on the basis of its exposure to daylight. The southern corner, which is most exposed to the sun, has lightened glass fibre-reinforced concrete finishes, while the northern corner is made of translucent glass. The southeast segment of the façade has a low strip of clear glass establishing a relationship with the central plaza of the campus, and the same mechanism is used on the northeast side, with a more visual relationship between the plaza and the sports centre
Use of ceramic maxi-slabs, and specifically Maxfine Titanium White in the 300 x 100 cm size and only 6 mm thick, on the bleachers of the sports centre and on part of the walls, adds power and light to the sports facility designed by architect Alberto Campo Baeza.
Gallery