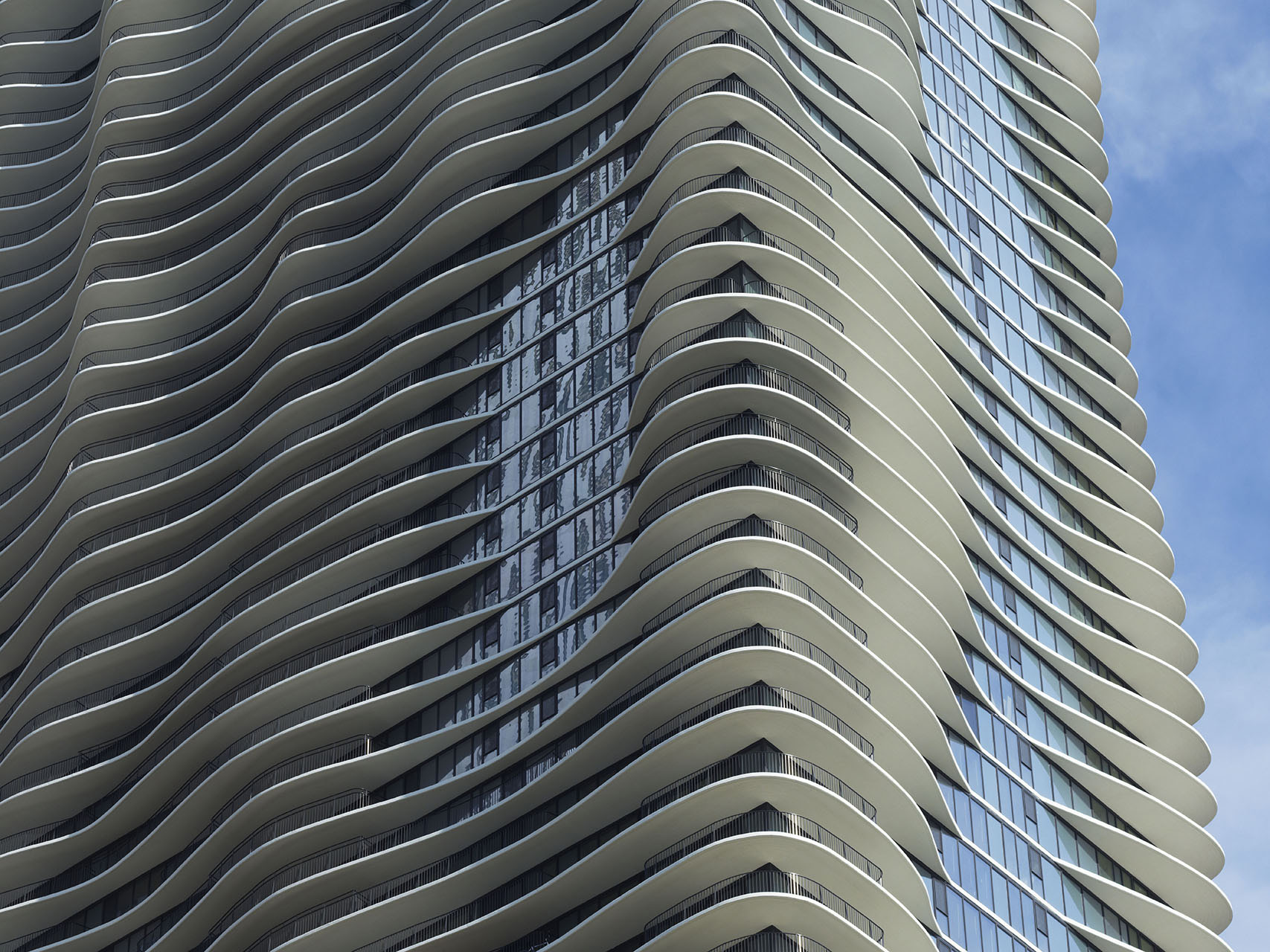 Skyscraper in Chicago. Terraces with an undulating layout to capture breathtaking views
This new skyscraper stands in the Skyline of Chicago and has become an icon. With its curvy cantilevered terrace, it appears to move between the lights and shadows, giving the building a sculptural appearance.
The Aqua Tower is an 82-storey multi-purpose skyscraper that includes a hotel, apartments, condominiums, parking lots and offices. Unlike normal skyscrapers, which have a small view hallway between existing buildings, Aqua Tower is designed to capture special views that would otherwise be unreachable. The building's highlights include the green rooftop terrace at the top of its plinth, which is one of Chicago's largest, containing an outdoor pool, running track, gardens and yoga terrace.
A series of contours of external terraces are extended detached from the facade of the tower structure to provide views between neighbouring buildings. These external terraces differ in their planform. The terraces "move" in accordance with the parameters such as view, solar shading, size and type of residence. When viewed together, they make the building look undulating, displaying a highly sculptural appearance.
The building creates a strong identity through its architecture and has become a reference point for the Chicago skyline. The unique and close collaboration between architect and constructor, as well as the use of contemporary digital tools, made it possible for the variation of the shape of the floor slabs to be achieved without increasing the construction time of the building. The result is a high tower, which enables the inhabitants to enjoy the building's facade and the city at the same time.
Aqua Tower was shaped by an organic and site-specific design process. They wanted the architecture to be changed by the climate and views, intertwining it with its surroundings and handling the building and its environment like they are interconnected and not separated.
Gallery