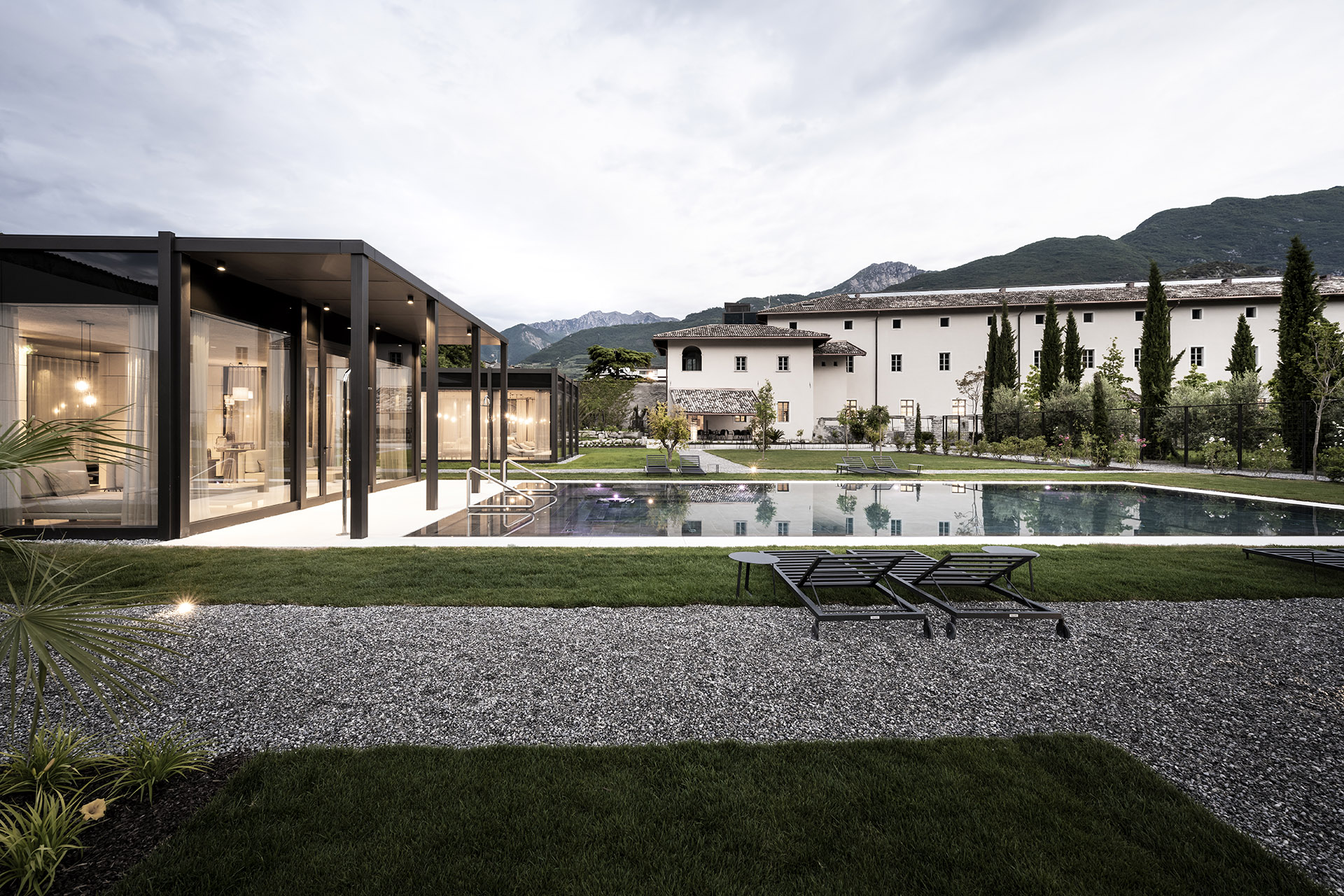 Hotel and spa inside a 17th-century monastery for an out-of-time experience on the shores of Lake Garda
Monumental spaces of a seventeenth-century monastery transformed into a hotel, preserving intact the charm of the ancient architecture and the atmosphere of peace and meditation, crowned by a spa in the garden that laps the shores of the lake
For the noa* architecture firm, the intent behind the renovation project of the Monastery of the Servants of Mary Addolorata was to rediscover the monumental strength and spiritual dimension of an ancient monastic center and make them the defining elements of a unique and charming hotel structure. The monastery stands in the center of Arco, at the northern end of Lake Garda: an imposing complex built starting in the second half of the 17th century, surrounded by a high surrounding wall and overlooking a large inner garden
The intervention, which involved the southern wing of the building-the remaining part still houses a church and a cloistered retreat-was carried out starting in 2020 in close collaboration with the Superintendence for Cultural Heritage of Trento to whose constraints the monastery was subject.
The noa* project can be distinguished into two macro-interventions. The first is the renovation and conversion of the monastery and its interiors to hotel use, achieved by obtaining the common areas (reception, lobby, breakfast room, bar area and kitchen) on the ground floor and the rooms distributed mainly between the second floor and the attic
The second macro-intervention is the creation of a spa overlooking the garden: 500 square meters with relaxation spaces, treatment rooms, saunas and wellness path with steam bath. Built from scratch in the monastery garden, it features seven light volumes of glass and metal, positioned along a stone spine. The alternation of glazed bodies and green courtyards creates a striking interplay of advancing and retreating volumes
From the combination of these interventions a special place was born, as the words of architect Padovan of noa* studio describe it: "A refuge capable of offering ancient experiences, making the most of the particularity and history of the place. And where every construction choice, every material and detail were designed to draw strength from the monumentality of the pre-existing context, enhancing it and bringing it to new life"
Gallery