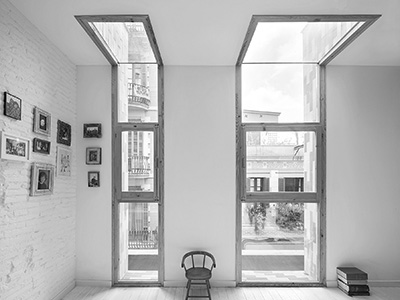 m-i-r-a architecture
Carrer del Secretari Coloma 44, local 08025 Barcelona

Mira is an architecture and design studio based in Barcelona, Spain. Formed by a team of diverse and international architects, we focus on developing residential projects with a scope for comercial and corporate, both locally and worldwide.
At Mira, seeing goes beyond looking. We seek to understand what's behind the visual in order to create something enriched with beauty, functionality and time. Through celebrating the history and embracing the new, we encompass work that is worthy to the cultural and historical context of each individual project. We strive to ensure a rounded level of satisfaction is met for all those involved in the development while placing emphasis on the needs of each client and project uniquely.
Team m-i-r-a (clockwise) Niccolo Marini, Marga Ruiz de Arcaute, Marc Zaragoza Cuffi, Aleix Bachs, Sandra Garcia, Dori Sadan, Erica Fantozzi, Duna Molina, Minghei Seol.