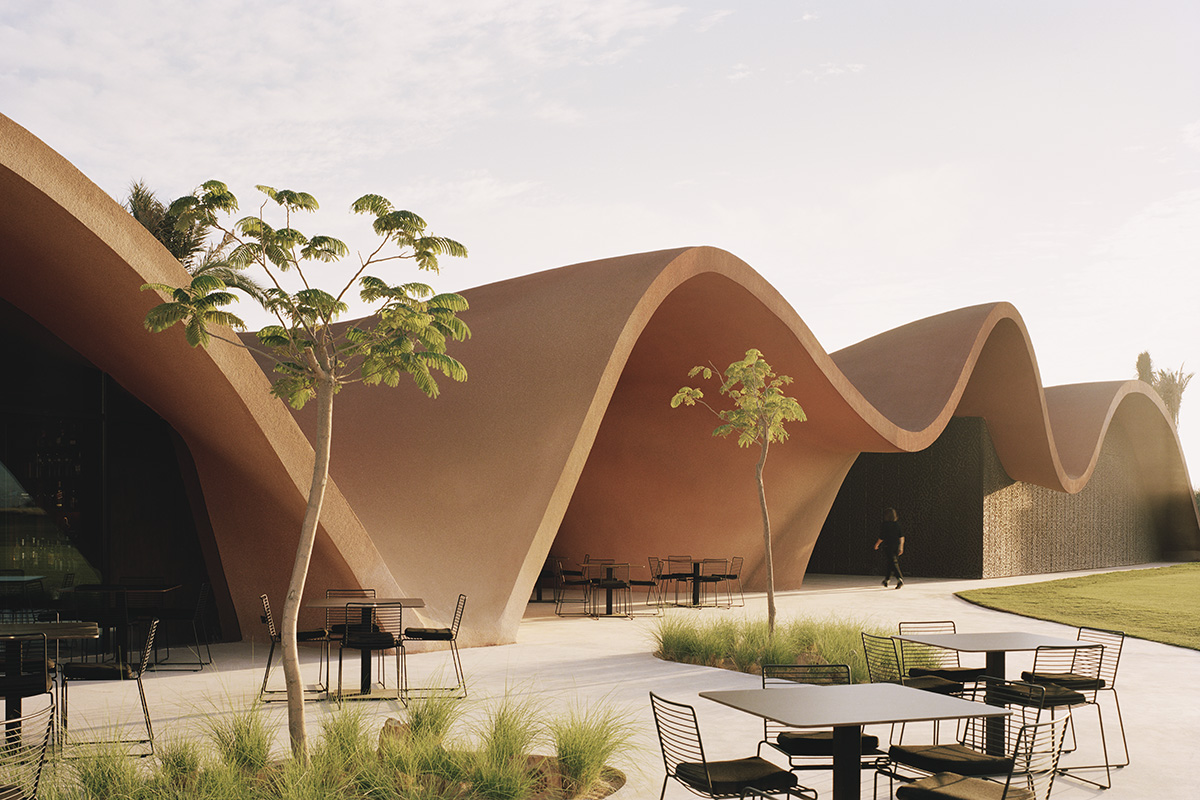 Organic architecture for a Resort in Jordan. The forms are naturally continuous
Oppenheim Architecture designs the Ayla Golf Academy & Clubhouse inspired by natural waterfalls and the surrounding desert mountains. The architectural form establishes a unique bond with nature by capturing the beauty of the undulating desert landscape.
The innovative and organic design of the building forms the core of the development of a mixed-use resort, Oasis Ayla. Its size of 1,200 square metres is part of the first phase of a 44 square kilometre recreational development currently under construction in Aqaba which includes residential, hotel and commercial spaces, all centred around an 18-hole golf course.
The particular architectural form of the Ayla Golf Academy & Clubhouse establishes a unique bond with nature, a huge concrete shell covers the built areas. The curved shell merges with the sand, simulating the dunes. The openings provide views towards the spectacular mountains of Aqaba and the perforated corten steel screen filters the light, similar to the traditional Arab "Mashrabiya". Jordanian motifs inspired the triangular pattern of the openings, while the tones of the surrounding mountains are echoed in the colours of concrete and metals.
The construction of the project is the result of a comprehensive program of knowledge, technical and cultural exchange between the Architecture Studio and the local workforce. The concrete casting techniques were taught to the workers in the early stages so that they could assume responsibility for the construction and acquire specialist skills. A local artist also helped to shape the building by applying a traditional pigmentation technique to the interior surfaces, ensuring a rough, unadorned appearance that remains true to its design contest.
Gallery